In sports, everyone is a winner—some people just win better than others. Like all those "Patriot Way" fetishists in New England, now freed from the tyranny of watching the greatest deep threat the NFL has ever seen.
I refer to the Shaughnessy-WEEI-Tommy from Quinzee axis, the folks who nod their heads vigorously when Chris Mortensen goes on the radio and declares that Randy Moss's not-unreasonable request for a new contract is "just not the Patriot Way, is it?"
Or when Dan Shaughnessy writes, of the press conference at which Moss made that not-unreasonable request for a new contract:
[Wes] Welker was scheduled to follow Moss to the podium and waited patiently by one of the exit doors for more than five minutes while Moss continued his manifesto. The imagery was perfect. Welker, the warrior/team guy who stands for all things Patriot — was forced to stand and wait while Moss talked about his contract and his personal hurt.
What's especially hilarious about this — aside from the inevitable cameo of Route 9 unicorn Wes Welker — is that Moss understood the Patriot Way better than anyone, and certainly better than Mort or Dan Shaughnessy or whoever's hosting today's drive-time sports-and-fascism hour. The real Patriot Way, that is, not the coloring-book version in Shaughnessy's head. Here's how Moss put it in February:
"You know the Patriots don't really pay, so when I got my second contract from them that was a blessing in disguise. I understand the business. I don't think they're going to re-sign me back. I'm not mad. I'm not bitter. It's just the way things are in this NFL, so like I said after this year I'll be looking for a new team. I think so."

Moss was asked to expound on his theory that the Patriots "don't really pay" and said it's just the organization's philosophy.

"That's not a knock on them. That's just how they run their organization," said Moss. "That's how it is. Put it like this, I guess that before I came there the philosophy was believing in their system. I think that's where they really don't pay guys because they have so much faith in their system. I didn't mean it as a knock against the organization. They just don't pay. If as an individual I'm not really in their future plans I would like to go elsewhere."
G/O Media may get a commission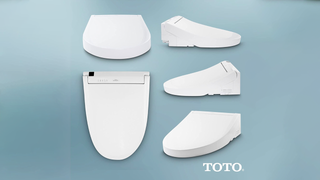 44% off
Toto Washlet Electronic Bidet Toilet Seat
Moss received a lot of flak for saying he felt unappreciated in New England, but if the Patriot Way means anything at all, it means exactly that. It's an organizational philosophy, honed to an art form by Bill Belichick, of being strategically unappreciative — of treating football players as coldly and cynically as the rules allow. Moss was just pointing out the obvious, and he got killed for it, and now Brett Favre's a happier man, and poor Wes Welker will have two defenders in his earhole from here on out. Belichick just sacrificed a Hall of Famer at the altar of the local stupids. Hope you guys are happy.
Drawing via deviantART