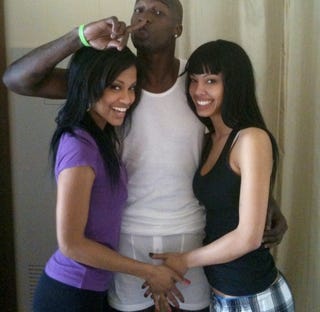 In sports, everyone is a winner-some people just win better than others. Like Chad OchoCinco, who's making Miami his own personal playground and Twittering his escapades.
Like that photo, which seems to be saying
"Shh, these are the only shorties that can cover me." Cover 2, really. You're stranded on Penis Island.
Also of note, Sir OchoCinco's South Beach Hootenanny Jigglefest where he and T.O. swapped playful banter on the microphone. T.O. has already laid claim to "OchoUno" should he end up in Cincinnati anytime soon. Carson Palmer would just be ecstatic.
Honorable mention: Snowlessness. Weren't those of us on the east coast supposed to be trapped in our homes without electricity, fending off yetis with our surplus of eggs and milk?