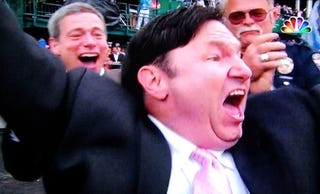 In sports, everyone is a winner-some people just win better than others. Like horse racing tracks, which, thanks to some lucky schlub publicly turning nothing into $900,000, should be seeing an influx of fools and their money, soon parted.
Good for Glen Fullerton. The 40-year-old software designer from East Texas with the bad toupee was probably content with the VIP trip to Churchill Downs he won in a contest. Sure, one of the perks was $100,000 that he was forced to wager, but who really expected that to pay off?
He said he liked Super Saver because Calvin Borel's had such success in past Derbies, which is exactly the type of logic that a beginner would use, and win, thereby infuriating you after years of carefully studying the racing form lead to nothing. He also says he liked Super Saver's past performance on muddy tracks, which is kind of bullshit, since he's only ever won twice before; that's not enough of a track record, so to speak.
But of course Super Saver was clearly the best horse out there yesterday, and that $100,000, which contest organizers Churchill Downs probably figured would go right back in their pockets, became $900,000. Glen Fullerton just became a very rich man.
It's just that easy! Which is dangerous for the morons out there. You too could probably scrounge up 100 grand in the next couple of weeks. Refinance the mortgage! Dip into the 401k! Sell your dog! Take that $100,000 to the nearest Off-Track Betting parlor (or Internet wagering site), and put it all on a horse in the Preakness. There's just a little matter of that horse actually winning, but when it does, you'll be rolling in dough!
It'd be a funnier joke if there weren't people who already spend more than they can afford on scratch-off lottery tickets, who will now head to their local OTB's or simulcast parlors, and send some of that money the tracks' way. Remember folks, gambling is a great evil and is illegal everywhere. Except in Nevada and New Jersey. And on Indian lands. And the Internet. And not if it's non-table games. And of course, not if it's horse racing, the sport of kings.