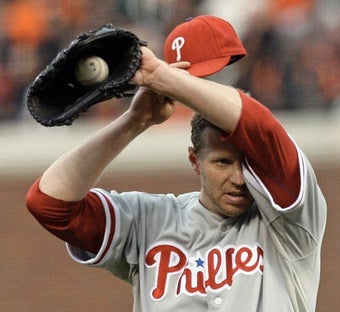 The Giants had a chance to shut the door and go back to their second World Series this decade, but Roy Halladay befuddled them. This despite what one writer so wonderfully characterized as a "barking" groin.
In the second inning, facing Cody Ross, Halladay tweaked his junk and was forced to throw the same for four more innings:
"It wasn't ideal," Halladay said with characteristic understatement. "We had the same game plan, but I had to find another way to get it there."
So with pluck, and by rubbing some figurative dirt on it—as well as a ridiculous assist from Jayson Werth—Halladay turned into a sports movie cliche before a national TV audience, gritting and junkballing through 108 pitches, and striking out Juan Uribe before tossing the keys to the bullpen for the last three innings. The groin barked, but the caravan rolls on.