In sports, everyone is a winner—some people just win better than others. Like Daniel Goldstein, the last man standing between the Nets and their shiny Brooklyn arena, who just got $3 million to sit down. That stinks.
Goldstein is the founder of "Develop Don't Destroy Brooklyn," a rag-tag band of community organizers who opposed the idea of dropping an ugly basketball arena on top of the busiest intersection in Brooklyn. His house also sits on the land that New Jersey Nets owner/scummy real estate tycoon Bruce Ratner needs to fulfill his terrible, terrible dream. Goldstein bought his condo for $590,000. The developer offered him $510,000 to get lost. He sued everyone he could to stay put. Ratner, the mayor, the city, the state, they guy who invented concrete. He became a major thorn in their side—but he lost. A lot.
So with his house seized under eminent domain and the state making plans to evict him, Goldstein is taking the money and packing it in. For $3 million, he is moving out, stepping down as DDDB's spokesman and agreeing in writing to not "actively oppose the project." He had no choice really—his lost cause was truly lost—but at least his fight to stop this swindle wasn't a total negative for him.
And this is an awful, awful swindle. Ratner convinced those in power that a downtown basketball arena was a good idea by hiring Frank Gehry to design a massive complex of offices, apartments, and shops that would rise and glitter above the court. Then Gehry was fired and most—perhaps all—of the buildings except for the arena will never be constructed. (The only thing Brooklyn needs less than a new arena is more empty condos.) The construction will clog one of the most highly-congested areas of New York City, with a giant eyesore that will distort already troubled traffic patterns. Worst of all, it is being paid for by tax-free government bonds—a nice assist for the billionaire Ratner—and built on land seized by the state to give to a private real estate developer. Even George Will (not exactly a well-known defender of the little guy) agrees that this is a terrible abuse of eminent domain that takes from the public to benefit private wealth. Nothing about the Atlantic Yards project can be considered a good thing, unless you're one of business people or politicians who will profit from it.
Nobody wants this. Yet it can't be stopped, because the rich always win.
Goldstein wins too, because at least he will be able buy a new house and hopefully erase most of his legal bills. (He also met his wife while protesting the project, so that's nice.) Ratner wins because that's one less bump to steamroll on his road to dumping this sorry idea on the lap of Mikhail Prokhorov. Mayor Mike Bloomberg wins because he'll get to stand at the ribbon cuttings and brag about the handful of "jobs" he created, although I'm sure he would never leave Manhattan just to watch a basketball game. Jay-Z wins because he's still Jay-Z and now he doesn't have to try and convince his buddy LeBron to move to Newark.
G/O Media may get a commission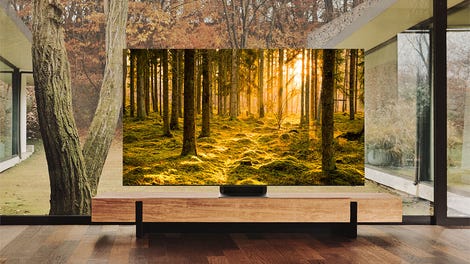 Up to 40% off
Samsung Smart TVs
Everyone wins ... except Brooklyn. More traffic, more crowds, more noise, more corruption ... and they now have to root for the Nets. That may be the saddest part of all.