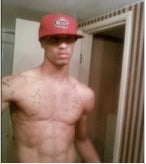 In sports, everyone is a winner-some people just win better than others. Like Spurs' point guard George Hill, who helped the rickety San Antonio Spurs topple the Dallas Mavericks in six ref-marred games.
Hill, as you may remember, was better known as one of the unlucky meat-peeped*. But he shined this series, and showed the world he's more than just another rhino-shlonged athlete who puts entirely too much trust in females who have his cell phone number. Unfortunately, it's tough to forget about Hill's brush with dong fame when sportswriters like the Dallas Morning News' Eddie Sefko pound out sentences like this: "A horrific start gave way to a hard-edged battle, but the San Antonio defense and another large showing by that unknown Spur George Hill doomed the Mavs' season."
Or there was the Austin-American Statesman's Kirk Bohls, who penned this ode to Hill, which should have come with a disclaimer in the subhead warning his readers about double entendre overload: "But he hates to refer to himself as a secret weapon."; "He looks healthy now."; "who has one of the smoothest strokes in the league."; "Pop might say his Spurs wouldn't be long for the playoffs, but for George Hill." And so on.
So congrats to George Hill: You've officially overcome your shortcomings as a player. Ah, dammit.
* — "Meat Peepin'" courtesy of Bomani Jones