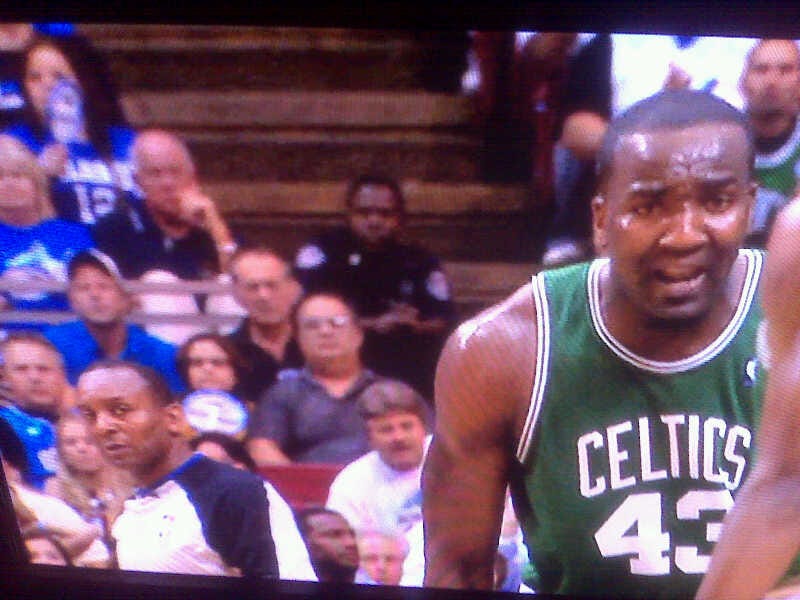 In sports, everyone is a winner—some people just win better than others. Like NBA schoolmarms, who time and again toughen up the rulebook to improve the league's cosmetics and who time and again wind up screwing with the game itself.
Kendrick Perkins picked up two tehcnicals last night in the Celtics' Game 5 flameout, the second whistled by referee Eddie F. Rush, pictured up there with the mall-cop eyes. This gives Perkins seven techs for the postseason, and unless the NBA decides to take one off the ledger, the Celtics' biggest piece of Dwight Howard siegecraft will spend Game 6 on the bench. Them's the rules.
Sphincters are tightening all along the Charles today, and however much we may enjoy that, let's just pause to marvel at the NBA's ability to once again trip all over its supposedly good intentions. Remember that the technical-foul suspension scale was the product of the Pacers-Pistons brawl in 2004, out of which was whipped up a big clanging authoritarian frenzy that also produced such fine things as the dress code and the league's overall operating philosophy of "Oh no! Scary Negroes!" In the aftermath of the fight, the NBA went to great lengths to be "family friendly" and win back "Middle America." Whatever your feelings on those efforts, the result was a lot of misshapen rules like the suspension scale, an impossibly rigid notion that served only to telegraph to fans that all those wildin' thugs were at last under someone's thumb. Technicals weren't the issue. The NBA's image was.
But fights have always wrong-footed the league, at least from the moment Kermit Washington landed his right cross. Derek Harper and Jo Jo English started a brawl in 1994 that led to all those overbearing rules about leaving the bench, which in turn played as big a role in knocking out the Suns in 2007 as Tim Duncan did. And now, another misbegotten idea cooked up in the overheated wake of another fight might very well swing another series. Eventually, the league will accept that sometimes, in a sport of large men flying at other large men, an occasional punch will be thrown, and an occasional punch will land, and kowtowing to the private terrors of people who don't really like basketball to begin with is only the worst imaginable response. Until then, we'll have to deal with stuff like this. Free Perk!
UPDATE: Perk freed!
Screengrab courtesy reader Rick