Canadian billionaire and Edmonton Oilers owner Daryl Katz has been accused of luring Brazilian model and actress Greice Santo into hotel rooms on multiple occasions and offering her money for sex, according to documents filed in a recent lawsuit. But that's not what the lawsuit is about. The allegations were made in a defamation lawsuit filed this week in New York court by Santo's husband, R.J. Cipriani, against Glenn Bunting and G.F. Bunting & Co., a public relations firm. The lawsuit claims that Katz hired Bunting to smear Cipriani's reputation in order to prevent a story about Katz's payments to Santo from being published in the New York Post.

The lawsuit does not name Katz as a defendant, and the complaint itself is mostly focused on displaying Bunting's history of helping universities make their sexual-assault scandals go away (previous clients include Florida State, Occidental, and Baylor). What's getting the most attention is one of the exhibits, a 15-page, handwritten note by Santo. Santo is known for her role in the CW show Jane the Virgin. Cipriani, a professional gambler, more recently was in reports for becoming an FBI informant whose cooperation helped dismantle a betting and drug ring. His name also came up in the Post in 2012, when Cipriani said he called Las Vegas police because billionaire Stewart Rahr was threatening his wife.
Santo said she first met Katz in November 2015 in Hawaii while she was there for a photo shoot for Viva Glam, a magazine which the lawsuit calls a "front for Katz to procure beautiful women for his own personal pleasure." While she was in Hawaii, Katz's cousin Michael Gelmon arranged a meeting in Katz's hotel room, telling her the purpose was helping Santo with her career, according to Santo's written statement. For half an hour, Katz talked about his connections in Hollywood and told her he could help her get a "big role" before saying that he wanted to offer her money instead, she said. Santo wrote that he told her, "I'm talking about millions. This would help your family and help you so you won't struggle."
Santo wrote in her statement that when she asked what she would have to do in return he said, "I'm looking for companionship and sex."
Santo left the room and Gelmon apologized to her, she wrote. About a month later, Gelmon requested another meeting between Santo and Katz, saying Katz wanted to apologize for his behavior in Hawaii and that he had been drinking at the time, according to Santo's statement. Gelmon told Santo that Katz wanted to help her with her acting career and that there would be "no more sex for money talk," then wired her $20,000 as a "good faith gesture" and so she could "free up her schedule," she wrote. She sent them her banking information so they could do this by text.
G/O Media may get a commission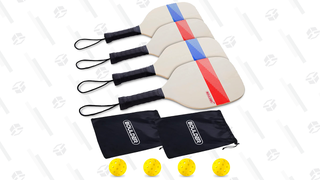 It's Pickleball
Pickleball Sets
Around this time, Santo wrote, Katz texted her, introducing himself by writing, "this is your Fairy Godfather." Santo said at the second meeting, at the Peninsula Beverly Hills, Katz once again propositioned her, saying that they would see each other five or six times a month and he would pay her $20,000 a day, per her statement. She wrote that she rejected the offer again, left the room, and said Gelmon warned her "not to upset Katz." She continued to exchange text messages with Katz.
Gelmon requested another meeting with Santo in March 2016, at the Montage Hotel, and also deposited $15,000 in her bank account, she said. But Santo did not show up to the meeting because she was afraid, she wrote. She was scared, she said, because she felt Gelmon had threatened her when he found out she was telling people about her interactions with Katz. She wrote that this interaction also was a factor.
You can read Santo's entire account of Katz's propositions here:

According to Variety, which first reported the lawsuit, Cipriani and Santos retained legal help, as did Katz, and the two sides tried to work out a settlement but were unsuccessful. Santos and Cipriani then went to the police in Hawaii and accused Katz of using the magazine Viva Glam as a way to lure young women to Katz for prostituion, Variety wrote. No charges were filed. The handwritten statement shows a stamp from the Culver City police department on one page and forwarding information for the Hawaii police department.
Then Katz hired crisis communications firm G.F. Bunting & Co., who Cipriani's lawsuit claims defamed him by telling the Post that he was trying to extort Katz. The lawsuit mostly goes over Bunting's previous clients, and says they have "lulled themselves into the false belief that he and/or his company are impervious to any legal or moral accountability." It does take a dig at Katz as well, saying "Katz is not a handsome man. What he lacks in physical presence, he tries to overcompensate with his bankroll."

An attorney for Katz released the following statement:

Robert J. Cipriani is a convicted felon who has been menacing Mr. Katz and his family for more than a year. The allegations in the complaint filed against Mr. Bunting and his company, and the assertions made in that document about Mr. Katz, are false, malicious and entirely without merit. Moreover, it is plain as day that this so-called complaint was filed solely as bait for the media as part of an ongoing effort by Cipriani to harass, embarrass and possibly extort Mr. Katz, exactly as Cipriani has done with other prominent individuals.
The lawsuit demands Bunting retract the extortion accusations against Cipriani and requests a jury trial. A full copy of the complaint is below.