The Washington Nationals announced Friday night that they had suspended assistant hitting coach Jacque Jones with pay, pending an investigation into a "legal matter." The announcement came a little more than a week after a lawsuit was filed in San Diego by a woman, under the name Jane Doe, who said Jones vengefully and without her consent distributed a photo of her naked breasts to a mutual friend over Facebook Messenger. Her lawsuit says Jones shared the photos to "to embarrass and humiliate Plaintiff and to emotionally devastate her."
She is suing Jones and the Nationals under the California revenge porn law, as well as multiple claims of negligence. In the lawsuit, Doe says that "employees and management" with the Nationals "knew of prior bad conduct of Coach Jones involving emotional abuse and intimidation of women."
The lawsuit, filed Sept. 29, says Jones and Doe, who lives in San Diego County, "began an intimate and sexual relationship" this past January, despite Jones' job with the Nationals keeping him in Washington D.C. and on the road for half of the year. They would see each other on breaks from the season, during which Jones lived in Escondido, Calif., according to the lawsuit.
During one of the times apart, Coach Jones requested Plaintiff send a naked photo of her breasts (i.e., intimate body parts). In Coach Jones's words, he wanted Plaintiff to send him pictures of "the full tiddies." Plaintiff resisted Coach Jones's requests and informed Coach Jones that she was worried other people would see the photos. But he was persistent and assured Plaintiff the photos were private and would remain private Based on Coach Jones's promise, Plaintiff sent him a photo of her breasts. Even though her face was cut out of the photo, the photo includes things that make her identifiable in the photo.
Jones told Doe, "U know I ain't gonna do nothing silly with ['em]," she claims in her lawsuit, and she sent him "around 100 photos of herself."
Over the course of their relationship, Jones became more controlling and "if Plaintiff did not follow his orders or do what he wanted, he would become angry and would persistently send her harassing text messages." Eventually, according to the lawsuit, Doe decided she no longer wanted to be in a relationship with Jones. When the Nationals traveled to San Diego in August, Jones brought a Nationals sweatshirt with him for Doe's father, and he wanted give it to her in person, according to the lawsuit. Doe said she told him she wouldn't meet him in person nor would she go to the game on Aug. 20.
G/O Media may get a commission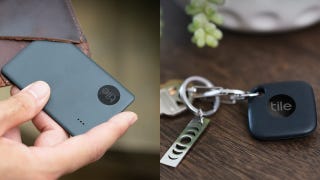 Up to 35% off
Tile Item Trackers
This enraged Jones, per the lawsuit, and he sent her a number of text messages from the ballpark. The lawsuit summarized them this way:
"First I wasn't pissed off ... But now FUCK YOU." He continued: "I have a fucking everyday job ... Ten hours fucking day ... I was trying to see where you were so I could get you your dads fucking sweatshirt ... I didn't have to try and come meet you ... But I wanted to fucking hand it to you ... yea but by the time you answered I had dropped [the sweatshirt] off and went to the stadium ... So fuck you.. .and your feelings."
Five days later, Doe says she gave two Nationals hats to "a mutual male friend," who then posted a photo of the hats on Facebook with the caption, "Got these Fresh Hats from the homegirl. Thank you [Plaintiff]." Jones "immediately" saw the photo, the lawsuit says, and "wanted revenge."
Within 15 minutes of the mutual friend's post, Coach Jones distributed two photos of Plaintiff to the mutual friend through Facebook Messenger that showed Plaintiff's bare breasts and included parts of her neck and upper chest that further indicated the photos depicted Plaintiff. Moreover, Coach Jones wrote a message to the mutual friend stating, "Ask ya homegirl if she wants these back? I see your post and she's on some bull shit. She's loony and the type of chick that makes a nigga wanna stay single.
The friend who allegedly received the nude photos of Doe told her that Jones sent them to him, and then "Coach Jones admitted to Plaintiff and to another friend of Plaintiff that he distributed the private and intimate photos of Plaintiff's breasts."
Coach Jones stated, "[Plaintiff] made it personal so had to let him know the real." Coach Jones also stated that if Plaintiff did not cease posting messages on Facebook, he would continue to distribute nude photos of her.
The lawsuit says that in the weeks after Jones allegedly distributed the photos, Doe "learned that Coach Jones was 'punishing' her for breaking up with him and insulting him. In this same time period, Plaintiff learned that Coach Jones distributed the photos to other people, in addition to the mutual friend." She also learned, according to her lawsuit, that Jones had been "emotionally abusive" to other women. The lawsuit states that "employees within the Defendant Washington Nationals organization knew of Coach Jones's propensity and predisposition to emotionally abuse and intimidate women."
Agents, employees, and management of Defendant Washington Nationals knew of prior bad conduct of Coach Jones involving emotional abuse and intimidation of women, which occurred before and during Coach Jones's employment with the Washington Nationals.

Defendant Washington Nationals failed to investigate, failed to train, and improperly retained Coach Jones even after it knew or should have known of his bad conduct toward women and his propensity for emotional abuse and intimidation toward women. Moreover, after learning of this specific instance in which Coach Jones illegally distributed intimate photos of Plaintiff, Defendant Washington Nationals did nothing.
Jones is originally from San Diego, and played 10 seasons in MLB. He made a one-and-done appearance on the Hall of Fame ballot, getting one vote. Jones was hired by the Nationals in 2016, the year his former manager Dusty Baker began managing the team.

The Nationals said minor league hitting coach Troy Gingrich will fill in for Jones.
The full lawsuit is below.