Well, now, this is a delightful twist on that old saw that bloggers do nothing but rewrite all the hard work that gets done by newspaper reporters out there in the field. Click the above image, which was sent to us by Ballin' Is A Habit, to enlarge it. What you'll see is a side-by-side comparison that shows Kevin Tatum, for years the epitome of entrenched sloth at the Philadelphia Inquirer, swiping paragraphs from the blog VUhoops.com, which, in all fairness, swiped a few paragraphs from a USA Basketball press release, too (though the VUhoops post at least had the courtesy to provide a link to the release).
Tatum's post has since been taken down after a complaint from VUhoops's Brian Ewart was sent to the Inquirer. The paper's sports editor, John Quinn, told me over the phone a little while ago that the matter is "still being looked at" and that the post's removal shouldn't be construed as an admission of guilt or innocence. But let's break it down.
The story in question is nothing major: former Villanova forward Curtis Sumpter's selection to the U.S. Pan-Am Games team. It's not the kind of thing that requires much effort; even the least enterprising reporter could thumb through the 'Nova media guide and use Google to get what's needed to write it up. But Tatum, whose lack of enterprise is legendary around Philly, still couldn't be bothered to do even that. The original VUhoops post, which went up at 4:32 p.m. yesterday, does contain some boilerplate that was lifted with just a few minor changes from the USA Basketball press release. Tatum's post, as the above screen grab shows, was time-stamped at 5:57 p.m.
Now, here's what distinguishes the two: As I mentioned above, VUhoops linked to the press release, making it clear where it got the information it used, even if it more or less rewrote parts of it. Tatum, on the other hand, did the same without citing anyone. Now, Quinn, the Inquirer's sports editor, told me the paper was looking into was what was in the original press release. But that release has 17 paragraphs, including five with background on what the tournament is about. VUhoops filled out its post by basically using portions of three of those paragraphs—and Tatum just so happened to rewrite those same three graphs. Apparently, he's got the same keen eye for what's relevant in a press release as VUhoops does.
But where Tatum's guilt is impossible to ignore was in the paragraph that covers Sumpter's background.
G/O Media may get a commission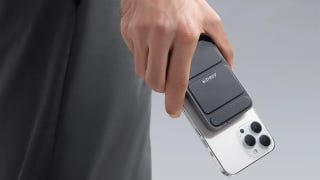 15% off
15% off Anker Top Ten Products
Take charge
Treat yourself to a portable power bank, a magnetic wireless battery for iPhones, or even a solar generator. There is a reason these are in the top ten. For instance, the Anker 747 Power Bank is a 4-in-1 charger utilizing USB-A and USB-C to be capable of charging up to four devices at once. Great to take with you when traveling and in need of keeping your phone, laptop, and even Nintendo Switch powered on.
This is what VUhoops wrote:
Sumpter was also a member of the 2004 USA World Championship For Young Men Qualifying Team that finished 5-0 and won the gold medal in Halifax, Canada. He has most recently played with Marousi BC (Greece), where he averaged 9.8 ppg., 6.0 rpg., 1.4 apg., and shot 59.6 percent from the field and 76.0 percent from the foul line.
Tatum's version was verbatim. And none of that info was in the USA Basketball press release.
In the grand scheme of things, this is probably a misdemeanor, but it's worth pointing out if only to demonstrate for the millionth time what a hack Kevin Tatum is. I say this as someone who once taped a 54-word sentence of his above my old desk. I don't remember what it said, exactly, but it was incoherent and sprawling, and it was so bad the newspaper scrubbed it from the website the next day, even though it had already made at least one of the print editions. I would look up at that sentence from time to time whenever I needed a laugh. Or witness this no-shit gem, which takes 11 paragraphs to say NBA players will have to work out on their own to stay in shape during the lockout. Tatum is the kind of hack who hangs around forever at newspapers, committing misdemeanor after misdemeanor and giving his colleagues a bad name, when a sane business would have tossed him out the window a long time ago.