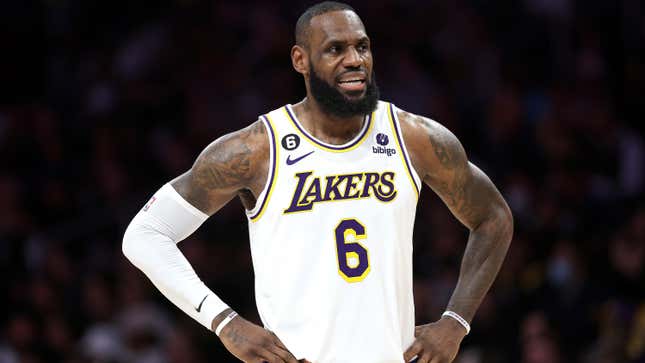 I've seen kiddie pools deeper than the unseasoned jambalaya VP Rob Pelinka has assembled for the Lakers around LeBron James. As a consequence, James' enduring existence on a sub-.500 borderline playoff squad has created a rift where trade speculation festers and boils. During a recent appearance on The Ultimate Cleveland Sports Show, The Athletic's senior NBA writer, Joe Vardon, poured a pot of hot water on the trade stove by rationalizing a bold, hypothetical trade of the Cavs' Evan Mobley for the NBA's future scoring king.
What could be the biggest move of the NBA off-season? | Agree to Disagree
"I think I would (make the trade). Having lived the championship year and then in 2019 I covered the Raptors run through the Finals," explained Vardon. "I have become a firm believer that if you have a shot, take it. I would rather win one more now and walk away from whatever Evan Mobley gives you."
Vardon's scalding hot take is nutty, but it's not deranged. The best thing I can say about it is that I've heard worse. To get the contracts to match, an assortment of vets like Caris LeVert would have to be cobbled together on the Cavaliers' side. but, that's not the most demanding hurdle to clear. The rub from Vardon's dance on the line between genius and insanity is that acquiring a 38-year-old James would dramatically narrow the decade-long window Mobley's development presumably leaves ajar to two or three years, tops. James is a rapidly devaluing asset and Mobley is ascending, although he'll never achieve James' peak. He doesn't need to.

Hold up
A giant caveat preventing a trade from being executed this season stems from a CBA quirk. Because of the date James signed his extension and the exorbitant amount, the Lakers star isn't eligible to be traded until Feb. 9, nine days past the 2023 trade deadline. CBA semantics aside, nothing we've seen from James suggests the Cavs won't benefit from a uniquely calibrated 39-year-old James' being inserted into a Mobley-less lineup.
What Evan Mobley means to Cleveland
In his current form, Mobley is a cog in the Cavaliers' machine lauded for his size, precocious defensive IQ, and his overall versatility, but his upside is why Cleveland is considered one of the teams that will be leading the field in a few seasons. In the NBA though, promises are murky.

He's also a few years away from fully realizing his potential and he's bumped into a minor sophomore slump. It's nothing to get too worried about yet, but there was a time when Ben Simmons was considered a generational specimen, and Karl Anthony-Towns was a 3-point pace-and-space-age K.G. incarnate. Just look at the shifting attitudes towards the 2022 season's Rookie of the Year Scottie Barnes half a season later for example. Wait, am I talking myself into this trade scenario?

The point is that investments in young, unproven players with a high valuation can be as unreliable as the return on an industry giant at its nadir. It's a testament to James' longevity that it's a plausible notion that he's still capable of spearheading a rising team to a championship. The only difference between the 2016 or 2020 LeBron and the 2023 version is the reduced load he can carry. James' monopolization over the best player in the NBA discourse is over. He's just one of the top-five players in the world as he closes on 40.

The gamble for Cleveland would be significant, and President of Basketball Operations Koby Altman would only take that chance unless they were under extreme pressure to win now. That doesn't appear to be the case.

However, in the modern-day NBA, championship rosters are more volatile than they were in past generations. Look no further than the 2012 Oklahoma City Thunder or, to a lesser extent, the Mitchell-Gobert Jazz.

The Cavs have the pieces to get a deal done
The Cavaliers' depth is jarring in totality, which is what separates them from those Jazz squads. In order of descending impact, the Cavs boast Mitchell, Darius Garland, Mobley, Jarrett Allen, Kevin Love, Caris LeVert, and Ricky Rubio off the bench.

Trading a young star for an aging vet who's still got it is the riskiest genre of NBA trades. Below are a sampling of May-December player trades championship-starved franchises should consider if they're willing to take bold chances. Each swap has an inherent risk involved, but the question one has to ask themselves is this one. Is one title, maybe two, worth the possibility of a future contention for a dozen more seasons?
Damian Lillard, 32, to the N.O. Pelicans for Brandon Ingram, 25 (plus Dyson Daniels)
Not only would Lillard reunite with C.J. McCollum, but this could go down without either being the best player on the team. Damian Lillard draining shots from The Logo creates even more acreage inside the arc for Zion Williamson to stampede through.
Kevin Durant, 34, to the New York Knicks for RJ Barrett, 22 (plus two firsts)
If Kyrie skips town this offseason, it would make sense for the Nets to finally acquiesce to salvaging some young talent for their prized scorer. He's increasingly going to need rest in the regular season as he encroaches on 35 which might make Tom Thibodeau explode, but his timeless skillset might be what lifts a spunky Knicks team from Eastern Conference also-ran to serious contender.
DeMar DeRozan, 33, to the Miami Heat for Tyler Herro, 22
Heat Nation admires Tyler Herro, but their window is now. DeRozan and Butler are a rare breed of guards who eschew 3-pointers from their diets, but in the postseason when the game slows down, and especially in the all-important crunchtime, this would be one of the NBA's best halfcourt duos. Meanwhile, Chicago gets to start over with Herro and Zach LaVine.
The unpredictability of the NBA's player empowerment era has upended the idea of teams staying the course. Teams have control over players for less time than ever. Michell enters free agency in 2026 and could theoretically exercise his unofficial pre-agency trade demands as early as 2025. Remember when San Antonio thought Kawhi Leonard would last forever? "A good time, not a long time" is the new NBA mantra. LeBron for Mobley sounds crazy on the surface of it, but the entire NBA is bananas this time of year. Ultimately it could pay off if both sides weighed the pros and cons.
James for Mobley's 16-year age gap makes this the most extreme form of a May-December swap, the trade equivalent YOLO level to diving out of an airplane to catch up with your parachute. You could end up with a Harden for a Ben Simmons (plus Seth Curry and picks) swap, which wound up working for both sides, or get swindled like Minnesota did in the lopsided Kevin Garnett-Al Jefferson exchange. Boston has 17 titles and they still celebrate their only championship in the last four decades like it's a national holiday.
However, the millions James spends on his body are paying off. He even plays both ends of back-to-backs unlike a slew of his peers in their early 30s. King James has more Horcruxes around the league than any superstar in NBA history and most of them are situated in Cleveland for obvious reasons.

This piece has been corrected to reflect that, per the CBA, LeBron is not tradable until August. Deadspin regrets the error.