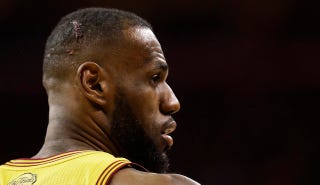 LeBron James wants to address the issue of photographers and videographers sitting too close to the court during games, per a report from Northeast Ohio Media Group's Chris Haynes.
The Cavs star told Haynes he'll "have some points that will be announced" during the NBPA union meetings in July.
James has had multiple incidents with photographers this postseason. In Game 1 of the East Finals, he stepped on a sideline camera man and turned his ankle. And in a scary moment from Game 4 of the Finals, LeBron cut his head open after crashing into a cameraman on the baseline.
The NBA has made measures in the past to reduce the number of camera types crowding the court during games, but it appears to still be an issue for the players. Union chief Michele Roberts also believes the issue needs to be addressed again:

"While I appreciate and enjoy up-close action shots of game play, do they really need to be that close to the action?" Roberts asked in a statement to NEOMG. "I am no techno geek, but haven't we evolved such that we can capture that action without being within inches of the game? Frankly for both the safety of the players and the camera men and women, we need to find a better solution."
LeBron must be really tired of cameras.
[NEOMG]
Photo via Associated Press