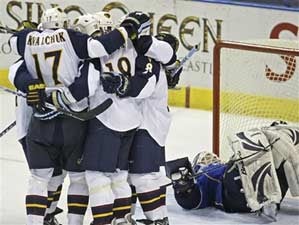 For the rest of 2007, the NHL Closer will be written by the fine folks at Melt Your Face Off. Enjoy.
Twas the night before Christmas and all through the league ... yeah, screw that. Anyone who actually celebrates the holiday is nowhere near their office right now.
Marian Hossa doesn't get paid time and a half. The Thrashers and Blues were settling in for overtime, but Hossa was having none of that shit. He streaked down the ice to score on Manny Legace 19 seconds into the extra frame. Of course, the argument could be made that Legace just went home. We've established previously that he doesn't want to be in St. Louis anymore.
Craig Conroy's about to get a lump of coal. Conroy misplayed a pass deep in his own zone, and Patrick Elias capitalized, scoring his own quick goal, 21 seconds into OT to give the Devils a 1-0 victory over the Flames. Kiprusoff and Brodeur combined for 51 saves on the night.
The New Jesus can take a night off. Sidney Crosby spread the wealth, letting Gary Roberts get the glory with two goals and an assist as the Penguins topped the Bruins 4-2. Roberts scored an empty-netter with ten seconds left to provide the difference, just a few moments after the Bruins pulled within a goal.
We at MYFO wish you all a happy holiday. The NHL is taking tomorrow off along with the rest of the world, so we'll be back on Thursday to help you wrap up the shortened week. Be safe tonight and tomorrow...don't do anything you can't get a bond for.