Why are you looking at a shirtless photo of Rangers outfielder Leonys Martin? Is he in someone's living room? Who the hell took this photo?
Let our tipster explain:
So we've all heard of Alex Rodriguez's story hitting on the models before the game. Well leonys is a little lazier than that. He has a few baseballs signed with his number and before each game he just throws it to a couple attractive females and one of my friends was the recipient and ended up texting him and he sent this picture to her.
And that's how we get this photo of shirtless Leonys, doing his best Bo Jackson pose in an attempt to impress a girl.
G/O Media may get a commission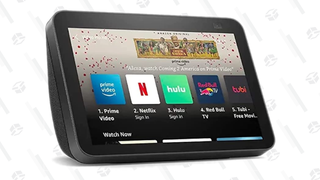 Whatever works for you, man.