For all of the casual viewership and cultural ubiquity Game Of Thrones has achieved by being a show about "tits and dragons," the show only works because of the writing. Almost everything about the plot is just goddamn preposterous, but it works because it's anchored in characters having conversations with each other.

[It's spoiler time, but if you're reading this blog about the plot events of a show you haven't watched, what are you doing?]
Sunday's episode, "No One," had The Mountain peeling a dude's skull back, Arya (literally) defacing her longtime antagonist, and Daenerys returning to Meereen to burn up her enemies with a big ole dragon, but the episode dedicated most of its screen time to long exchanges between characters. GOT achieves phenomenon-hood because of its brutality and scale, and its key moments only work because the show (usually) lays the necessary narrative track to make those moments feel earned. Arya rejecting her allegiance to the Many-Faced God and realizing that she's always been a Stark is much more satisfying because she's wrestled with the messiness of both choices for the duration of the show. As GOT winds towards its end game, resolution is taking the place of sprawl, which comes with both payoffs as well as an elimination of possibilities.
George R.R. Martin's GOT universe is overstuffed with characters of uncertain motivation, granular details about meals/topography, secret histories, and also it's also never going to get goddamn finished, which is a confluence of circumstances that makes GOT and its source material, A Song Of Ice And Fire, ideal for theorizing and speculation. There's the one about the unholy alliance between [SPOILER] and [SPOILER] that connects many disparate magical threads, the Cthulu-centric one that posits a character literally kills a god, and the utterly outlandish theory that GRRM is going to finish these books soon. (I was particularly convinced of the theory that the Arya who got stabbed two episodes back was actually another character wearing her face, but it turns out, nah, the show just isn't that dedicated to tricking you with tiny bits of misdirection.)
Maybe the wildest theory Deadspin's core group of enthusiasts has come across is espoused by Preston Jacobs, State Department employee and GOT vlogger. Jacobs has a fairly sizable audience (roughly 114,000 subscribers) and the wackiest fucking theories in a field known for wacky fucking theories. Come, follow me down the rabbithole, towards 10 minutes of evidence that the ASOIAF world is actually a post-apocalyptic version of our world and that all magic is merely lingering radiation:

This one isn't as sexy, but it's certainly less plausible. Who is the real hero of Game Of Thrones? You could make a case for Jon, Daenerys, Bran, Jaime, Brienne, or even goddamn Podrick. Open-ended as the question is, the hero of the story is definitively not sniveling wimp Robin Arryn. He is a tiny baby boy and his role in the story is to be a tiny baby boy. Nothing more. He is as likely a hero as Dog, who will probably not show up on the TV series. However, by some permutation of the infinite monkey theorem, Jacobs' theory goes that he is actually mega powerful and will sit the Iron Throne with Shireen (???) by his side by the end of the books:
The secret heroism of maybe the worst character in GRRM's universe is classic Jacobs: it hinges on a children's story foretelling that a distant line of Tully ancestors was telepathic and that Robin inherited those gifts and is secretly an alternate Bran, and not a miserable husk. The evidence is as specious as anything with which he supports his fun, wonky, utterly improbable theories.
G/O Media may get a commission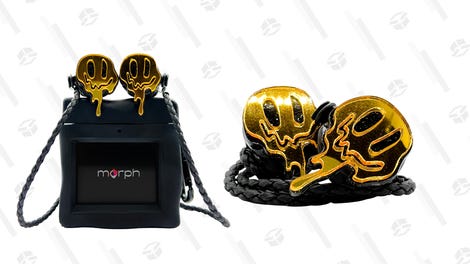 morph audio
Morph Earphones
Anyway, Jacobs got his Patreon subscribers to pony up the cash to send Jacobs to a dinner with GRRM at Balticon recently, and he (of course) produced a video recapping his mostly fruitless attempts to goad a clearly uninterested GRRM into engaging with his theories. "I'm a big picture guy," Jacobs says, laying out his strategy:

This video makes clear the gap between ASOIAF's more fervent readers and the books' author. Martin clearly doesn't give a shit about theoretical deep dives into the theta-based iconography scattered across his collected works; the man just wants to relax and be a minor literary celebrity. But as long as he's attending conventions instead of writing pages, there'll be a void to speculate into, and as long as there aren't definitive answers to the series' biggest questions, someone is going to make Ser Pounce = Azor Ahai videos.