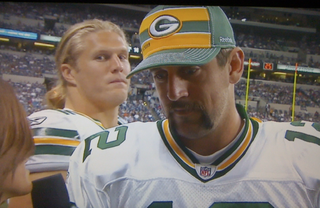 Mike D. of central Texas "let 2 picks go through its time limit in a fantasy draft to send this" picture of Clay Matthews photobombing Aaron Rodgers during the Colts/Packers preseason game.
So, it felt only right as the hurricane angrily approaches to pay it forward and give Mike D. a big old attaboy. C'mon, let's hear it for Mike D!
Aaron Rodgers Photobombed [YouTube]
Painter makes a connection in Colts' 24-21 loss to Packers [IndyStar]
Wrapping up the Packers-Colts game: Why McCarthy played to win [Packers News]
****
Thank you for your continued support of Deadspin. Good luck to the Knox City Greyhounds tonight. Somebody should be here for you in the future, depending on what happens with all this weather and whatnot. Sky looks ugly, so in addition to heroic Rovell, #prayforlayne too, even if you can't save either of them from themselves.