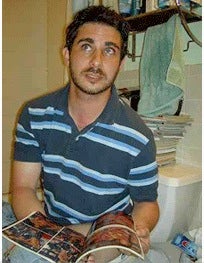 Greetings. Today is the first day as an official full-time member under the employ of one William F. Leitch and Gawker Media. What this role will actually entail has yet to be determined. We're hoping to have something hammered out over the next couple weeks so we don't confuse you, have duplicate posting or inundate you with nonsensical, image-oriented items of me reading porn mid-defecation.
So, just be patient until Will, Rick and I get a regular routine. Plus, it'll probably take me some time to figure out how to set up my new email, how to properly align a picture, fill out paperwork, and find a seat in the cafeteria. (First days are always so nerve-wracking!)
Right now, it's your duty to just enjoy this afternoon: It's opening day, Iron Maiden is back on tour and it's almost time for short weather.
Let's do this.