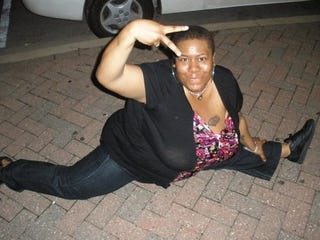 Okay, it's time to close. We'll be here tomorrow with a bunch of galleries, Deleted Scenes and Bowl game open threads for you to occupy yourself with while you nurse hangover/lay on couch/contemplate hitting the gym/try to quit smoking.
A serious thank you for your continued support of Deadspin throughout this past year. I know we may not always agree, but I think everyone's intentions are good. Next year, let's all be better.
Oh. And the picture featured above was from an email request:
Yo AJ, I don't care how you do it, just work this picture into
something soon - hilarious.

Ben - make sure he sees it.

P.S. me and my co-workers were talking about how good McDonald's coke
is during lunch, and when I get back and check the mailbag, someone
asked about it - coincidence, huh?
As you wish, sir. Be safe tonight, monsters. See you in the '10.