Your morning roundup for Sept. 30, the day we we laughed at Florida, again and always. Video via Goal 100. Got any stories or photos for us? Tip your editors.
Jokic? Embiid? The NBA MVP is obvious... right? | Keep it a Buck(et)
What we watched: The end of that South Florida-Pitt game, which then segued into SportsCenter, which is where I learned what LeBron James, of all people, had tweeted about the outstanding play of Pitt running back Ray Graham, which I'm not sharing with you because it's stupid.
G/O Media may get a commission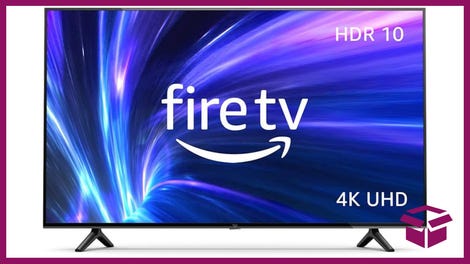 42% Off
Amazon Fire TV 50" 4K Smart TV
ESPN's pride in its willingness to shill for pro athletes has been well-established. But why does the network feel the need to put on the bobbysox and pigtails so it can squeal over what fucking LeBron thought about a college football game? In trying to show us it's "hip" and "with it" by sharing athletes' tweets to enhance its commentary, ESPN is really only showing us how hard it's trying to be "hip" and "with it." The network has enough analysts on the payroll who state the obvious. It doesn't need to prostrate itself further to give us even more.
Elsewhere
Tito's out in Boston: "Terry Francona will meet with Red Sox management on Friday morning, and the expected resolution is that he no longer will be the team's manager, major league sources say. While Francona's departure is not certain, it is the likely outcome, in part because he is pressing for a resolution, sources say. He would not be fired; the Red Sox would simply decline their club options on him for 2012 and '13. At that point, Francona would be free to pursue long-term contracts with other clubs. The White Sox's position currently is open, and Francona managed five seasons in their minor-league system in the early 1990s." [Rosenthal]
Kobe doin' international deals: "Italian club Virtus Bologna said it has reached a verbal agreement with Kobe Bryant for the Los Angeles Lakers star to play in Italy during the NBA lockout. 'We have reached an economic deal,' Virtus president Claudio Sabatini told a local radio station. 'There's still some things to arrange but at this point I'm very optimistic. I would say it's 95 percent done.' A person with knowledge of the negotiations told The Associated Press on Friday that the sides have settled on a $3 million contract for the opening 40 days of the Italian league season." [ESPN]
Jon Bois is CEO of Light Beer: "This ad explicitly defines the drinking of Light Beer as 'unmanly behavior.' Far more discouraging, though, is the insinuation that being 'unmanly' is inherently undesirable. Did you know, sir, that there are many human beings who are not men? Did you also know that there are many men who have no interest in the contemporary pop-culture definition of "men," and that we have no call to shame them simply for being who they are? I understand that in a company as large as MillerCoors, plenty of things could easily get lost in the shuffle. You may, however, want to consider hiring a new advertising agency. This one doesn't seem very nice." [Good Men Project]
Your Weirdly Masturbatory Weight Device Interlude:
Andy Roddick, fearless leader: "Tennis is a star-driven sport, and if we are going to be unified, all of our stars have to be on the same page," said Roddick, a former No. 1-ranked player and the United States Open champion in 2003. He added: 'Without a union, it's tough for us to complain about anything. If we don't unite, we have no one to blame but ourselves.' Asked what his role might be if a players union were organized, Roddick said: 'Look, it's all just hypothetical right now. Where this goes, who knows?' Among Roddick's main concerns is the length of the tennis season, which lasts roughly 11 months. 'It's too long,' he said. 'The game is so much more physical now. It's so much more about athleticism and speed. Andre Agassi played until he was 34 or 35, but with these long seasons, you're not going to see current players last that long.'" [New York Times]
Chipper Jones will never stop playing baseball; may be robot incapable of aging: "After the Braves' season ended with a five-game skid and no postseason berth, Chipper Jones reiterated his intention of returning for the 2012 season. Jones said the team's September collapse would have no bearing on his decision. 'I've committed to playing next year,' he said. 'I won't commit past that; let's put it that way. [But] I'm looking forward to it. As tough a pill as it is to swallow, for a lot of these young guys it's a learning experience. We got our butts kicked for the last couple of weeks of the season, and they're going to learn a lot from it and be better ballplayers for it.'" [Atlanta Journal-Constitution]
Every update on NHL uniforms you didn't ask for—in one place!: "An annual rite of September is that scores of alarmed Red Wings fans flood Uni Watch's inbox with notes saying, 'They've switched to straight, block-lettered player names on the back of the jerseys!' Fear not, Detroit fans — the Wings do this every preseason. They'll go back to their standard vertically arched lettering once the games count. And in another preseason move, Pavel Datsyuk has been wearing No. 24 as a memorial salute to Ruslan Salei, who died in the Russian plane crash. He'll switch back to his usual No. 13 when the regular season starts." [Uni Watch]
Merch: Managing editor Tom Scocca and contributing editor Drew Magary have both written books. You can buy Scocca's Beijing Welcomes You: Unveiling the Capital City of the Future here, and Magary's The Postmortal here. Now do it.
Send stories, photos, and anything else you might have to tips@deadspin.com.