If the possibility of getting fired or divorced or nonexistent Spanish skills didn't stop me, I would write to Ines Sainz right now and profess my undying love for her.
I am 57 years old. My career is dead. I haven't written a decent column since the Carter Administration. I have absolutely nothing left to live for except those long naps on the couch on weekends when my wife goes to Target. If she goes to Target. I have typed the phrase "why didn't I become a copywriter" too many times to count, and once, on this blog, I responded ferociously in the comments on a post about Longhorn Girl. When one idiot suggested that she's "somebody's daughter," I said we should ask her father if the carpet matched the drapes. I was not approved.
Last summer, I was mailing in a column about Steve McNair's quiet heroism soon after his death when the news about the Erin Andrews video broke. I remember opening an ING account that day in person just so I could use their free internet access to watch the video as many times as possible before they threw me out. Boy, I thought, she must do a lot of lunges.
G/O Media may get a commission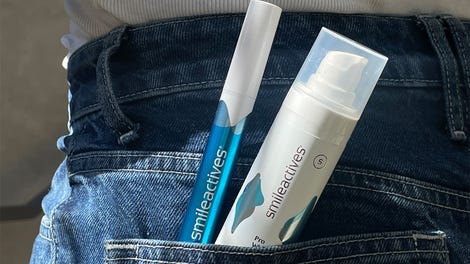 58% off
Whitening Powerhouse Pen & Gel Duo
So what are we up against? I am aware that, even though I have proper credentials, the possibility of starting an affair with the pretty Mexican television reporter who wanders into the locker room while I'm fiddling around with my tape recorder and asking other people to borrow a pen, is slim. I also knew that, if given the opportunity in 1985, I would've peppered reporter Paola Boivin's tummy with baby kisses. I also would have severed an arm to caress and lick the porcelain baby doll feet of Joan Ryan of the Orlando Sentinel. And I am quite certain that I would have ravaged the Boston Herald's Lisa Olson on the press-box meat spread if she had shot me that electric smile. For those fantasies alone, I am thankful.
But if I had the opportunity to sit down and talk with, say, Ines Sainz, I'd probably be unable to say anything because I'd be too self-conscious about prematurely ejaculating in my chinos. I'd also have a tough time making eye contact, because I would be walking behind her the whole time just to see how close I could get to those two sweet Virginia hams she calls a backside.
I have to wonder what Ines Sainz is doing out there today. Whatever it is, I picture her wearing nothing but an apron that says something in Spanish about making love to the chef, serving me a plate of churros. Does she secretly hate the fact that she's created all of this controversy over a little Twitter update? Will she follow my Twitter account now that I've openly defended her several times about the despicable behavior of pro athletes and men in general? If she follows me, will she respond to a direct message in which I volunteer to empty out that ING savings account in order to fly to her hometown of Santiago de Querétaro and take her out for coffee to discuss her ordeal face to face?
On Tuesday's Today Show she denied taking any offense to the locker room remarks.
"I must say that I don't hear anything that is in a sexual way," she told host Meredith Vieira. "I'm not the one who say the charge or try to involve all of the team in this situation."
God, I'd fuck her sideways.
Anonymous Aging Male Sportswriter is a syndicated columnist in the Gannett News Service. He has worked in journalism for 40 years and has covered six Super Bowls, five World Series, Ali-Frazier II, and a bunch of tennis matches between Chrissy Evert and Martina Navratilova. In 1992, his column, "And That's How I See It," received an honorable mention in APSE's annual writing awards.