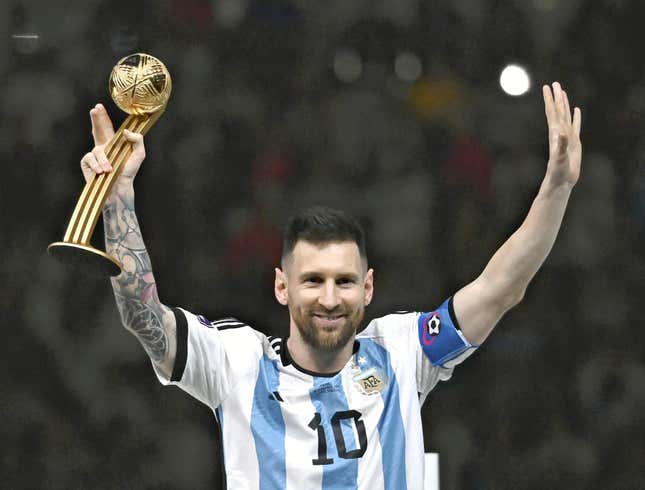 MLS, arguably, have already gotten what they wanted from the signing of Lionel Messi. They were in the headlines the past couple days, a place the league has struggled to stay in. It is something, for the league, that ESPN.com has a Messi headline right next to a headline about Liverpool signing Alexis Mac Allister. Sure, ESPN is always slanted to what it covers and what it doesn't, and if MLS was still carried by ESPN, that might be very different. But it's a pretty strong indication of where the game is in this country. Soccer fans are just as interested, if not more so, in news from abroad than here, even with the arrival of Messi.
France or Argentina? Who wins the FIFA World Cup? | Agree to Disagree
What will have MLS encouraged is the headlines around the world, which the league will be cracking for the first time in a while. Maybe since David Beckham came over in 2007. And this isn't the same league as it was then. What will MLS get out of Messi being here, what should it get, and what won't it get?
No more of the Ponzi Scheme
It's been the easy (and fun!) joke about MLS for a couple decades now. That its rapid expansion from 13 teams when Beckham arrived to the soon-to-be 30 (17 in 18 years if you're counting) was actually the only way it could stay alive. It didn't have a great TV deal, or even a good one, attendance was ropey in some places, so the expansion fees paid by those 17 teams is what has kept the league afloat. We may never know, it's not like MLS is going to open its books anytime soon, but needless to say, it's been a bit weird.
But that doesn't mean those expansion teams didn't carve out a niche for themselves in their markets. Seattle, Atlanta, Portland, LAFC, Austin, and now St. Louis — these are some of the most passionate and strongest markets in MLS. Whatever the original motivation, it's worked.
It's been easy to connect Messi's arrival to Beckham's, but it's a different landscape. Whether Beckham's arrival and magnetism were in any way responsible for the explosion of expansion that would follow or not, that's not going to be on the table for the league in the wake of calling Messi one of their own. Unless MLS is planning to expand to 42 teams or something (Boise Juniors?). The league is in every part of the country, maybe save the Southwest, and there isn't too much left to tap.
Attendance isn't actually a huge problem
So the league would argue that Messi's arrival is about solidifying those teams into their markets. But that's not actually a huge problem. MLS has passionate fans about their clubs.
Thirteen teams drew 90 percent capacity of their stadiums or more last season. Some of those teams were even pretty crap and still drew, like Toronto, Kansas City, or Columbus. Charlotte had the expansion boost, but that has continued into this season. Twenty-one drew over 80 percent capacity.
Sure there's more money in getting teams going from drawing 87 percent capacity to 100, but it's kind of on the margins. Even teams that are perceived to have problems are more a victim of optics. It doesn't look great when the Revolution are playing in what looks like an empty football stadium, but if they were drawing the 20K per game as they do in a stadium that holds 25,000, it would look just fine. Chicago's problem is that they suck ass, not that Chicago isn't a place that doesn't like the sport. Houston has been just shit enough to not make too many people want to sit in the sun in Texas in the summer.
There are places that could use a boost for sure, but are the Rapids going to consistently get 8,000 more people to drive 20 minutes outside the city to a pretty lifeless stadium because Messi plays in Miami? Or to convince more people to sit outside in Houston in the middle of July? Doubtful.
It's the international TV
What MLS is counting on is a huge boost in Apple TV subscriptions. And what's important is that it doesn't matter what country those subscriptions come from, as it would have had they still had a normal TV deal. While it's hard to know what the numbers are of people in Argentina or Spain or South America who will sign up for Season Pass to watch Messi on a week-to-week basis, it's certainly non-zero. And how many of them will be buying flamingo-pink No. 10 Miami shirts is not something to be ignored either.
Because again, it's hard to know how many American fans are going to be urged to fork over that money. Casual fans wanting to just see the event aren't likely to in huge numbers, and would rather just go to the stadium when Messi arrives in town. MLS fans either already have it or are only interested in their team, as MLS fandom is pretty parochial.
But the international money is essentially free money on top of what they already have. And it also can be an advertisement for what MLS has kind of become, i.e. a developmental league for South American players. Four of the top-10 outgoing transfers from MLS in its history were South American players, and Thiago Almada will make that five relatively soon. Taty Castellanos and Brenner are other South American players who have netted $10 million-plus fees for their clubs. The more MLS is visible on that continent, the more that pipeline opens up.
As for Messi turning MLS into some world power? Yeah, it's not happening. Messi doesn't really solve what ails MLS. Because after the initial buzz dies down, which might not happen until 2024 to be fair, it's still a league putting on a huge swath of meaningless games on a Saturday night in the summer. Its most important games are still played opposite college football and the NFL. It still has Byzantine roster and salary cap rules that the average fan has no hope of understanding. Fans are used to salary caps, and the parity it creates is generally welcomed, but fans also like to be able to follow along like they can with the NBA or NFL. You can't in MLS.
Messi is certainly a capture and a coup for the league. But the room for growth just isn't as high as it was 16 years ago when Beckham was generating this buzz. The World Cup in 2026 will do just as much, if not far more, legwork. But it can't be a bad thing adding the best player of all time. The noise just might outweigh the real, though.
---
Follow Sam on Twitter @Felsgate.