We'll be putting all our GIFs for the day here, from official Buddy Of The West Horton narrowly escaping certain death to Indianapolis cheerleaders remaining Chuckstrong. We'll update the post as the later games conclude, so stay tuned.
Chicago 28, Minnesota 10: Much of the country had this game on FOX and were quickly switched elsewhere as the second half began. Chicago led the vikings 25-3 at the half and FOX thought everyone had had enough. Here's Jerk Cutler firing an absolute laser into the corner of the endzone to Matt Spaeth at the end of the half.
Cutler finished the day with one touchdown and one interception and 188 yards passing. His counterpart had equally underwhelming numbers. Adrian Peterson continued his impressive return season with another game with over 100 yards rushing on 18 carries.
G/O Media may get a commission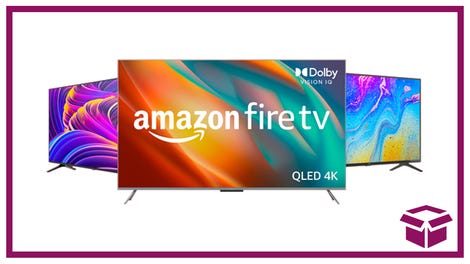 Ooh. stunning.
New Amazon Fire TVs
Cincinnati 34, Oakland 10: Well the Sebastian Janikowski for team MVP race is really gathering steam in Oakland. His 55 yard field goal is basically the only thing worth talking about for Oakland. Yeah, yeah, Denarius Moore touchdown in the third quarter—whatever. Andy Dalton had 210 yards and three touchdowns on the day, including this beaut to Mohamed Sanu halfway through the second quarter. It put the Bengals up 21-0 and it was over well before then.
Cleveland 20, Pittsburgh 14: The Steelers turned the ball over seven eight times. That is a lot. That's, like, 4 more turnovers than what is typically considered a lot. Charlie Batch had three interceptions, receiver Emmanuel Sanders fumbled the final play of the game and the Pittsburgh running game accounted for the balance—which again was four more.
The game started promisingly for the Steelers, however, when Lawrence Timmons returned an interception 53 yards to give the Steelers a quick 7-0 lead. It would be the Browns' only turnover. Put another way, the Browns had seven less turnovers than the Steelers. The downside for the Browns was Brandon Weeden joining the ever-growing list of players with head injuries.
And also here is Heath Miller running over Usama Young of the Browns early in the third quarter. Young was injured on the play and would not return.
Indianapolis 20, Buffalo 13: The Colts opened the scoring with a 75-yard T.Y. Hilton punt return five minutes into the game. Hilton added another touchdown, an eight yard pass from Andrew Luck in the third quarter that made it 20-6. Buffalo added another score in the fourth, but it would not be enough.
Now, for some whimsy, here is an absolutely horrified cheerleader showing solidarity with coach Chuck Pagano.
Jacksonville 24, Tennessee 19 Even though the Jaguars are winners, we are the real winners here when all call our dads and get to hear the "did you see? The Jags doubled their wins for the season" quips. Nothing better than some verbal sleight of hand. Here's some more fun with words:
The Jaguars (2-9) snapped a seven-game losing streak and were competitive at home for the first time this season.
The Chad Henne Experience continued its second week of dominance, but it was the Jacksonville defense that preserved the victory. Down two with 2:53 to play, Jake Locker and the Titans still had a chance to win. However on the second play of the drive, a pass intended for Jared Cook was tipped and then intercepted by Dwight Lowery. It both ended the game (for all intents and purposes) and is crazy hypnotic.
Denver 17, Kansas City 9: Ryan Succop was heavily featured in this game.
Miami 24, Seattle 21: The Dolphins won on a last second 43 yard field goal from Dan Carpenter and capped a fourth quarter Miami comeback in the last five minutes. Don Shula would be proud. Russell Wilson had a solid game with 224 yards and two touchdowns, but Marshawn Lynch was nowhere to be seen. He had 46 yards on 19 carries. Maybe it was all the water on the field. Ryan Tannehill threw for 253 yards and one touchdown—a 29 yard pass to Charles Clay with 5:13 to go in the game. The touchdown was the result of the drive immediately following this 98-yard kickoff return from Leon Washington.
Atlanta 24, Tampa Bay 23: Like seemingly every Falcons game this year, this one went down to the wire. Matt Ryan (353 yards, 1 touchdown) and Julio Jones (147 yards, 1 touchdown) had a solid day, but it was the running game and field goal units that really stole the show here. Jacquizz Rodgers and Michael Turner both had touchdowns for the Falcons, and Doug Martin added two more for the Buccs. Special Teams were the difference, however, and the Falcons were almost undone by their unit with this hideously shanked chip shot.
San Francisco 31, New Orleans 21: To borrow a phrase from those discussing a quarterback who has neither been good nor pissed anyone off yet, Colin Kaepernick was efficient in his second start. 231 yards and one touchdown and interception passing. He added another rushing touchdown. Drew Brees was another story. He was picked off twice and both were returned for touchdowns. Ahmad Brooks intercepted Brees in the second quarter and returned it 50 yards for a touchdown and Donte Whitner returned a 42 yard interception in the third quarter. There's your ballgame.
Here's your Darren Sproles flipping Aldon Smith over his back....game.
Baltimore 16, San Diego 13: Ray Rice saved the day for the Ravens late in the fourth quarter. On a fourth and 29 play, down three and inside the two minute warning, Flacco dumped off a pass to Rice after all other options came up empty. Rice raced to the San Diego 34, just picking up the first down and keeping the Ravens alive. They kicked a game-tying 38 yard field goal as time expired to force overtime. The game ended exactly as it was extended, with a Justin Tucker 38 yard field goal. The Chargers drop to 4-7 after giving up 10 unanswered points in regulation and coming up empty on two overtime possessions.
More losing for San Diego: pantomime fellatio.
St. Louis 31, Arizona 17: This is what happens when you tinker with greatness. You get Ryan Lindley throwing four interceptions, two of which were returned by Janoris Jenkins for touchdowns (36, 39 yards). Here's Jenkins's first interception. Smarten up, Whisenhunt. Smarten up.
New York Giants 38, Green Bay 10: Well, that's that. The Giants dispatched with the Packers with ease. Eli Manning had three touchdowns to three separate receivers: Nicks, Randle and of course the salsa-dancing Victor Cruz. More salsa music piped in. If you ever wanted to question the legitimacy of televised athletics it is now, when Victor Cruz scores a touchdown in seemingly every NBC game he ever plays. It's all fixed. The Packers lone touchdown was a 61 yard pass to Jordy Nelson in the first quarter, which tied the score at seven. That was about it for the Packers.
And then there is this: Travis Beckum doing it Gangnam Style behind a very studious Eli Manning.