Hey, remember those cranky folks who couldn't get their Super Bowl seats? Remember how they're suing, and how $5 million wouldn't be enough in remuneration?
Well, even if you don't, meet them again, because they decided to ask for more money—this time, it's lost income.
Super Bowl ticket-holders displaced during the seating fiasco at Cowboys Stadium in February said Tuesday in a court filing they should be compensated for lost income on top of the other expenses they incurred.

Ticket holders who lost their seats or had obstructed views "at a very minimum" should be paid for lost income suffered as a result of traveling to suburban Arlington, according to a document filed in response to a motion by the Dallas Cowboys and the NFL seeking to dismiss the class action lawsuit.
G/O Media may get a commission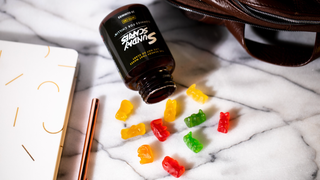 10mg CBD Gummies (22-Count)
Call us cold-hearted, but if you decide to go to the Super Bowl, aren't you forfeiting that income in the first place? At worst, you got a vacation in Arlington with slightly poorer seats—and the NFL reimbursed fans for all of that: travel, hotel, meals, tickets. Not a bad deal.
Then again, you know, if I had known I would be watching the Super Bowl from the field level club, I probably woulda stayed home and created a social network that woulda made Facebook look like Friendster. Pay me, Roger!
Displaced fans seeking lost income [ESPN Dallas]