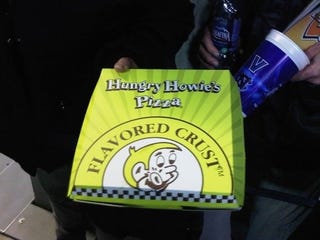 Because no one reads the newspaper, and SportsCenter's anchors are too perky for this early in the morning, Deadspin combs the best of the broadsheets and the blogosphere to bring you everything you need to know to start your day.
A Detroit News columnist points to all the empty seats at yesterday's Little Caesars Pizza Bowl and wonders if the sponsor got enough bang for their buck. Reader Guy sends along this photo that leads us to believe that no, no they didn't.
The bowl, née the Motor City Bowl, has never been a big ticket (Ohio, on top of losing the game, actually lost money by participating). But the least Little Caesars could have done was make sure their pizza was actually sold at the stadium. Not this Hungry Howie's bullshit. Let's hope this same marketing disaster didn't happen at the Beef 'O' Brady's Bowl.
Maybe they saved a little cash on beverages, because Ford Field appears to have been using (or reusing) the leftover souvenir cups from the Final Four. Thrifty!

Empty Seats Leave Bad Taste At Detroit's Pizza Bowl [Detroit News]
OU Not Bowling For Dollars [Columbus Dispatch]
•••••
Good morning Starshine. The Christmas haul was pretty good, but Boxing Day gave us all Katie Bakes, so let's call it a wash.