When Deadspin asked us to write these articles, we went back and forth a few times on the date, and eventually settled on Sept. 22. I'd like to believe that somehow, that's because we knew, or perhaps sensed, that this article was going to be published on Sept. 20.
Padres' David Eckstein has made 'little' go a long way
Ahhhhhhh. Just seeing that headline brings back so many memories of nights just like this one where, instead of going to sleep or fixing something in my house that needs fixing or reading one of the great masterworks of Western literature, I stayed up until two in the morning and worked myself into a lather over how much people overrate David Eckstein.
If David Eckstein is right, if players like him are an endangered species because computer-generated calculations can't quantify the value of hustling and the little things he does so well, baseball will be the poorer for it.
Quick update: L'il Ecky sits at .275/.325/.338 for the go-go Padres. Weirdly, FanGraphs digs his defense this year (odd, since he sure seemed to be going downhill in a hurry a couple years ago) and has him at 1.7 WAR. (BP has 1.6 WARP.) So, not a bad year. In the range of your Cody Rosses, your Orlando Cabreras, your Lyle Overbays. Those types of guys.
G/O Media may get a commission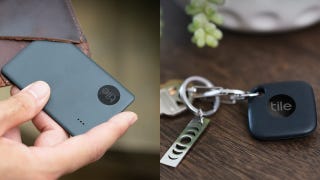 Up to 35% off
Tile Item Trackers
Just a few other numbers to throw at you, so you can get the full picture: Eckstein's Hustle is a perfect 100 (for the MLB-record 9th year in a row). His Grit is a 16.6 — meh — but his Having-Overcome-Obstacles clocks in at 41.4771 on the accurate-to-four-decimal-points Lathingham-Norbley Having-Overcome-Obstacles scale. And his Guts grades out at a respectable VVS1. (Remember — Guts are graded on the same scale as diamond clarity).
If there's no room for someone like the San Diego Padres' second baseman, the ultimate little guy with a big heart and a winning influence on every team whose dirt-stained uniform he has worn, the sport will lose a piece of its soul.
I am something of a connoisseur of David Eckstein hyperbole, and I can say quite confidently that this is some grade-A hydroponic shit. "Ultimate little guy with a big heart," "winning influence" and "dirt-stained uniform" are all par for the course — kind of hacky, actually. But "if there is no room in baseball for someone like David Eckstein, baseball will lose a piece of its soul" — man. That is gorgeous. That is a shimmering rainbow of poopguage, which is a substance you get when you combine language with poop.
"The style of game I play is definitely well against all the new-age baseball guys. A place in this game is not going to be very long for me, the way I play, because it's not what everyone that's getting power would want to see," he said.
First of all, I had no idea that David Eckstein was Lithuanian until I read that quote. But he should take more ESL classes, because that's mostly gibberish. Second of all, something tells me that baseball will always have a place for mediocre middle infielders with a career 87 OPS+. Somebody has to come off the bench when the starters get hurt.
"They want to see the numbers. They want to see stuff that translates on paper. I don't translate to paper."
Oh schnapps! Somebody has been reading too many articles about himself! Granted, this isn't exactly "I am the greatest!" or "I'm not bragging but my movies have grossed well over a billion dollars." But it sure seems like Ecky has drunk his own Kool-Aid. (He drinks it out of a thimble, and can only finish half of it before his tummy fills up.)
And by the way, you translate to paper just fine, and the translation reads: "Slightly better than Fernando Vina."
It says on paper that he's only 5 feet 7 and 175 pounds.
For those of you who are new to Eckstein Hagiography, it is a federal law that all articles must include his height and weight. Back in 2007-08, the so-called "Golden Era" of Journo/Eckstein heavy-petting sessions, the official c.v. read: 5-7/165. Seems like our little buddy put on a few in the last couple years. Or maybe it's just 10 pounds...of heart. Or maybe right before the weigh-in a mailman mistook him for a mailbox and placed a 10-pound package in his mouth.
That he has no power, with 35 home runs in 10 seasons. That he doesn't steal many bases anymore — seven this season — and isn't getting on base as much as he used to, with a .325 on-base percentage this season but a respectable .346 for his career.
So...it says "on paper" that he is small and mediocre, does it. Well you know what, assholes? That's why they don't print stats on paper. They print them — oh, wait, shit, they do print them on paper. He stinks.
He's a choke-up-on-the-bat, hit-behind-the-runner singles hitter with an arm that's not the world's strongest.
If you are trying to write an article about why David Eckstein isn't that great at baseball, you are doing a bang-up job.
He plays second base by positioning and studying opposing hitters and somehow gets to the right place at the right time.
A fact that is unique to David Eckstein. Robinson Cano plays second base by running in circles, closing his eyes, and trying to feel the ball off the bat. Omar Infante plays second base by attempting to divine, through augury and calf-entrail-spilling, who will hit the ball to him and when. Ian Kinsler plays second base by putting in a little earpiece and having someone whisper to him what to do, like Brando used to do when he no longer bothered to learn his lines. Clint Barmes plays second base like a guitar, picking the entire second base area up and strumming it lightly, occasionally taking requests from the crowd. (You should hear Clint Barmes play "April Come She Will" on the acoustic second-base-area. It'll bring a tear to your eye.) (That might be the weirdest sentence I've ever written. Fuck it. I'm leaving it in. It's 12:25 a.m.)
Listen: those things that you just said Eckstein does? Everyone does them. Every second baseman does them. Short ones, tall ones, good ones, bad ones. They all do it. They all position themselves and study opposing hitters and try to get to the right place at the right time. Because they are professional baseball players. Why does David Eckstein get credit for things everyone does? Major League Baseball ability is not graded on a shortness curve.
He's always alert and sharing information with teammates, a quality appreciated by his manager, Bud Black.
"What do you like most about David Eckstein, coach?"
"Well, he is alert — he responds to stimuli, which lets me know he has a functioning central nervous system. Also, he talks to the other people on our team, which is a plus."
"That's great. Hey — did you notice he has a .325 OBP?"
"..."
"Coach?"
"Sorry, I blacked out for a second."
Good thing Eckstein ignores all the negative numbers.
"Not to sound cocky but I knew I could do it," said Eckstein, who has a .281 career batting average and is the only infielder in the major leagues this season who has played at least 70 games without an error.
"I needed someone to believe in me and I had that along the way, also."
This is the point in the David Eckstein Article Shitting-On-It Session where I say the following:
It is a fantastic triumph to make a major league roster. It means you are one of the 750 or so very best baseball players in the entire universe. David Eckstein is extremely good at baseball. But he is most emphatically not:
Underrated
Ignored
Doubted
Tall
Heavy
Good at baseball compared to most other baseball players.
Eckstein, 35, is also a two-time World Series champion — in 2002 with the Angels and again in 2006 with the St. Louis Cardinals, when he was voted the Series' most valuable player.
This is the point in the David Eckstein Article Shitting-On-It Session where I point out that Ecky was 2-for-13 in Games 1-3 of that World Series and won the MVP award in part because Curtis Granderson fell down chasing his easy fly ball — a fact which somehow later was used to show that Eckstein is clutch.
In a recent poll of 313 major league players conducted by Sports Illustrated, Eckstein was chosen the player who had gotten the most out of his talent. He got 25% of the votes, well ahead of the 13% earned by Boston's Dustin Pedroia.
Yes. This did happen. And it is insane. The person who has gotten the most out of his talent is probably Albert Pujols, or maybe Alex Rodriguez, or something. But if you want to answer this question by saying. "Who's the best short guy," it's Pedroia, who has essentially the same exact career WAR in three and a half seasons as Eck has in his entire 12-year career. (18.0 for Pedey, 18.1 for Eck.)
Also, every single time there is any kind of poll about who's the most underrated? or who gets the most out of the least? or who's the winningest winner who wins when no one else can win? the answer always comes up: David Eckstein. And the fact that he wins those polls every single time is then used to show how overlooked and ignored he is. Does no one else see the irony there?
[looks around; sees literally everyone else in the world is asleep]
Fair enough.
No room in the game for David Eckstein?
"I hope that's not the case," Black said recently. "He's a baseball player with talent. One thing I think gets overlooked: he can play.
IT IS NOT OVERLOOKED. IT IS ALL ANYONE EVER FUCKING TALKS ABOUT.
You know who's overlooked? Adrian Fucking Gonzalez. Nobody in the world outside of Adrian Gonzalez's immediate family has any idea he even exists, much less that he is one of the very best hitters in the world. A reporter recently asked Yorvit Torrealba to talk about how good Adrian Gonzalez has been for the Pads this year, and Torrealba said, "There is no one on our team by that name. You are mistaken. Perhaps you mean to ask about David Eckstein?" Then he directed the reporter over to a velvet-roped-off area down the left field line where David Eckstein was standing on a giant lazy susan, like a 20-foot Bowrider at a boat show, rotating slowly as thousands of screaming journalists took his picture so they could say they once got the chance to see the great David Eckstein in person. And while this was happening, Adrian Gonzalez, who has a .922 OPS hitting in fucking Petco every night, was outside gnawing on discarded chicken wings in a dumpster because he doesn't even get paid for playing baseball, because nobody knows who he is. That's a true story, people.
He's got talent and some of the things he does, he does a lot better than a lot of players in this league."
Quick rewrite: "He's got [some] talent and [virtually none] of the things he does, he does a lot better than [Tony Womack].
Talking about Eckstein brought a smile to Black's face, and Black hasn't had a whole lot to smile about lately.
This is shoddy journalism. The only reason Black had a smile on his face is because Eck was out in center field in a diaper, running through the sprinklers.
Yet, in all the gloom the Padres may have reasons for optimism.
First, they're playing the Dodgers, whom they swept Sept. 6-7-8. Eckstein's crafty seven-pitch at-bat in the seventh inning, resulting in a sacrifice fly against Jonathan Broxton, provided the insurance run in the series-opening 4-2 victory, which ended that 10-game skid.
David Eckstein is amazing. He's so amazing, sometimes he has at-bats that last 7 pitches. (Even though his 3.71 pitches-per-appearance would tie him for 100th in the league, if he qualified, which he does not.) Sometimes he is so awesome he hits sac flies in the seventh inning of games to increase his team's lead. Can any other player do that? No. They can't. Nobody else can do that.
Here's the FanGraphs breakdown of that game. That sac fly increased the Padres' chance of winning from 85.8% to 89.3%.
His WPA for that game was -.011. Adrian Gonzalez, in that game, went 2-for-3 with a walk. "Adrian Gonzalez played in that game?" asked Everyone. "I didn't notice. I was watching Eckstein, and how he wears a glove when he plays second base, which is so smart and scrappy. I am going to write a 50,000-word article about how he is awesome because he wears a glove when he plays second base. If you can come up with any proof that this "Gonzalez" fellow actually played tonight — or, alternately, if you can show me that he is short, and has translucent skin and no muscles, give me a call." (God. Everyone can be such a dick sometimes.)
"When we win, Eck seems to do something in that game to help us win," Black said, "whether it's a hit, a play in the field, something he says on the field to a defender. To a teammate. Or something he says in the dugout."
"Expelliarmus!" said Eckstein, attempting to knock the bat out of Matt Kemp's hands, just before Kemp laced a single to center.
Eckstein said that, like his strong points, the Padres' strengths don't translate to paper.
"We will battle. We will fight. And we will play the game the right way," he said. "Hopefully, we'll find a way and what we've done the first five months will show."
The Padres' strengths don't translate to paper, except when you look at this paper right here that I am holding, where I have written the word: Pitching.
I have also written "Adrian Gonzalez."
And over here is another piece of paper, entitled, "Journalists' Weaknesses." On it I have written:
Romantic Songs
All things Italy
"Death by Chocolate" (so sinful!)
David Eckstein