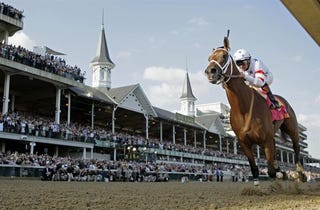 Can no-longer-Hooters-sponsored Big Brown be the first Triple Crown winner since Carl Yastrzemski Affirmed in 1978? In the 30 years since, 10 horses have been in Big Brown's position, looking for the sweep. With Japanese import Casino Drive gone, what was already being called a certain victory by trainer Rick Dutrow seems all the more likely for the now briefly steroid-free horse.
Join me, won't you, as I live blog the broadcast, culminating in the mile and a half run at history.
- Rick Reilly wants Big Brown to win the Triple Crown so Eight Belles will be remembered. Hmm, sure. Also: "Big Brown. I love that name!" It is comforting to know supposed experts choose to root for horses in the same superficial reasons I do.
-Hey, it's Shaq... dressed as a jockey. Because that worked really well as a commercial.
-Hey, mawkish stories about 9-year-olds. Just what I want out of horse racing. Thanks ABC.
-"Can you guarantee a victory?" "Uh, yeah, sure." Most emphatic.
-Wanted expensive women and the drugs, did you Dutrow? Usually it's the other way around. And, hey, he could have bunked with Kimbo Slice in his car way back when.
-Hank Goldberg and his pinkish hue are going with Big Brown. Shocker. Of course, given his NFL track record, Big Brown should pull one of those runs straight to the infield.
-OH NOES! THEY MAKE THE JOCKEYS WALK UP TWO WHOLE FLIGHTS OF STAIRS FROM THE TRAINING ROOM TO THE FIELD!
-Anthony Garguila has the Sinatra swagger and the Manning haircut. Definitely a winner with this crowd.
-Brent Musburger: "The most important furlong is THE FINAL FURLONG" Thanks, Brent. I suppose the finish line is the most important line, too, right?
-Was Big Brown just called a beautiful athlete? When did Dee Mirich start announcing these things?
-GO HORSIES GO!
-Big Brown hanging at third after a half mile. A close pack at the front with Da' Tara, Tale of Ekati and Big Brown.
-Aaaaaand there goes Da' Tara
-Sorry steroid horse
-Welp, sorry history buffs. No triple crown this year. Oh yeah, and the ton of people who lost money. Sucks for you.
- "I had no horse" says jockey. Sounds like a problem.
-Dutrow shies away from interviews after guaranteeing a win. Um, wanna tell him to screw himself, reporters? Maybe try to hold him to his braggadocio bullshit? Cowards.