OK, folks, we are sorry that you're stuck at work all day today, one of the best baseball days of the year. But worry not! We're at home, with vasoline on our fingers and ready to roll. Bookmark this page all day today to check in on the Cards-Padres, inning by inning, fingernail-bite by fingernail-bite. Warning: We will not pretend we're not rooting for the Cardinals. Frankly, we think it's going to be really, really hard to type while watching a Cardinals playoff game; nobody asks Simmons to do this with the Red Sox, for crying out loud.
But we're gonna give it a try, because the Cardinals are so cool that, as you can tell from the picture, sometimes they get in the stands and drink beer with the fans. Bookmark this page and keep reloading all day.
Playoffs Pants Party: Cardinals vs. Padres [Deadspin]
G/O Media may get a commission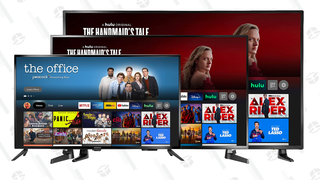 Up to 44% off
Prime Early Access - Insignia Fire TVs
(Live Blog Begins After The Jump)
TOP OF THE NINTH
Nothing comes easy: Padres score a run and LaRussa brings in Jason Isringhausen. This is almost certain to be the least stressful postseason appearance for the Cards closer.
He gives up a groundout to let in a run. One more out to go, and we can sleep with at least a modicum of sleep for the next two nights.
Ryan Klesko — not to be confused with Matthew Lesko — rips a single into right. Let's finish this already. Crap. Mark Loretta knocks the ball into center, and the tying run is at the place. For the record, if they did (no!) happen to come back and win this, we're going to set this puppy on fire. He's right here. And he's cute. So you know.
And holy crap. Giles singles. Robert Fick is the tying run. HELP!
And now HE hammers a single into right field. Uh ... remember what we were saying about the least stressful Isringhausen outing? Forget that.
OK, Carlos Hernandez just did all Cardinals fans a favor and decided he was swinging at every pitch. He strikes out on three pitches, and Isringhausen — who was getting booed by Cardinals fans, no small feat — escapes. Game One goes to the Cardinals. Everybody take a deep breath. We're gonna go hug something soft now.
FINAL: Cardinals 8, Padres 5
BOTTOM OF THE EIGHTH: We just got our first shot of David Eckstein's father. We won't get into the story here — just check it out if you want the background — but rest assured, if the Cardinals advance to the NLCS or even the World Series, you're going to be hearing about this more than you could possibly imagine.
Cardinals 8, Padres 2
TOP OF THE EIGHTH: Eric Young just hit a home run off Randy Flores, who kind of looks like Cillian Murphy to us. Didn't he used to be fast? He kind of looks like Ray King right now.
Tony LaRussa is so weird. He just brought in So Taguchi to play left field ... for three batters. He then took him out in a double switch. Man's a stinkin' genius.
Padres had a cute little "rally" there. Good for them! (Whoa. Sounded like a Red Sox fan there.)
Cardinals 8, Padres 2
BOTTOM OF THE SEVENTH: We're watching a Dennis Miller NetZero commercial right now (Cards went scoreless against the Japanese pitcher with the weird delivery, by the way), and we're reminded of Deadspin associate editor Rick Chandler's brilliant comedy piece about the Miller of 2003 being visited by the Miller of 1988.
"DENNIS MILLER (1988): What do you know about football? I seem to recall a certain touch football game at Saturday Night Live where I asked Kevin Nealon to 'hold my inhaler while I try to catch the oblong object.' Football? I thought Joe Montana was a town where you couldn't get cable."
Cardinals 8, Padres 1
TOP OF THE SEVENTH: Cards take out Carpenter, apparently because of a minor injury. We're hoping that minor injury is called "an 8-0 lead." Apparently it's "cramps in his hand." Reliever Brad Thompson apparently has cramps somewhere; first and third, nobody out for the Padres.
Sacrifice fly, a Padres run, another fly out and now a pitching change for the Cardinals. You can always count on Tony LaRussa to stretch a game out. Forget what we said earlier about this being over in time to start the Red Sox-White Sox live blog.
LaRussa brings in lefthander Randy Flores, which is very disappointing. We were hoping he'd bring in portly Ray King, who, after the Cardinals clinched the playoffs last year, hopped on LaRussa's back, who then carried him around the clubhouse. At the time, we commented, "This must have looked like an ant trying to carry a Cocoa Puff."
Cardinals 8, Padres 1
BOTTOM OF THE SIXTH: From the chat on Gas Lamp Ball: "They should start throwing at the Cards. Hit like every batter you can. Try and hurt them. It's over, get that edge for tomorrow." This is what we used to do in Little League all the time. It's quite fun. We actually play this same game with our cats.
Cards go down in order. At this rate, this game's gonna be over just in time to do the Red Sox-White Sox live blog. That is, if Jose Contreras makes it through his treacherous boat escape from Cuba in time.
Cardinals 8, Padres 0
TOP OF THE SIXTH: For some reason, a jet just flew over Busch Stadium very loudly and very low. Joe Morgan and Jon Miller seem to find this funny. We only think it would be funny if they used jets to knock down Busch Stadium at the end of the season. That would be less funny than really freaking cool. Padres go down in order. Carpenter cruising. Time for a daiquiri!
Cardinals 8, Padres 0
BOTTOM OF THE FIFTH: Looks like Jake Peavy took a groundball of his groin on a single by Edmonds. Do pitchers wear cups? We're wondering if any other professions other than athletes wear cups? Is there a market for selling cups to lawyers? We think there might be. Pujols rips a line drive single to right, and it's time for another Larry Walker story from reader Stan of gentrifriedrice.com.
"When I was growing up in the bay area, I used to go to Giants games at the 'Stick and sit in the bleacher seats (four bucks!) with my friends. So there was one game in '99 against the Rockies... and the fans in the bleachers were being especially tough on Larry Walker. Nothing really offensive, just typical taunting.... I think I might have yelled, "How's your wife and my kids?" at some point. At some point in the game, when the Rockies were taking the field again, Larry came over and addressed the entire right field bleacher section, telling us that there was too much hate in the world... something about, "This is why Columbine happened." Needless to say, the taunting stopped.

No, wait... my mistake. It only got worse after that."
Come on. Everybody knows Columbine happened because of Trent Reznor. Duh. Walker walks. Bases loaded. This could get real bad real fast.
And then it does. Grand slam for Reggie Sanders. That's six RBIs for him. That's all for Peavy. That's all for the Padres in Game One. We're gonna keep live blogging, though, because people who leave games early are freaking lame.
Cardinals 8, Padres 0
TOP OF THE FIFTH: ESPN just blacked out again. We know this is happening throughout the New York area, but how about the rest of the country?
This is the most upset we have ever been about not having to listen to Joe Morgan. According to Yahoo Sports, runner on first with one out.
OK, we're back. Yahoo wasn't lying. Jake Peavy strikes out trying to bunt. Dave Roberts flies out to left. Will Leitch notices that his one of his toes has developed a bit of a bunion.
Cardinals 4, Padres 0
BOTTOM OF THE FOURTH: A church song from our youth: "Father Abraham ... had many sons ... many sons had Father Abraham ... I am one of them ... and so are you ... so let's just Praise the Lord!" We'd then put our left arm out in front of us, yell "LEFT ARM!" and then repeat the verse, moving onto the right arm, the left leg, our head, so on. We don't remember why this was. In related news, Abraham Nunez just grounded out, Yadier Molina ("Father Yadier ... had many sons ... many sons had Father Yadier ...") struck out and Carpenter grounds out. We're cooking along now.
Cardinals 4, Padres 0
TOP OF THE FOURTH: Carpenter is beginning to settle in. Groundout, walk, double play. In the words of Stuart Scott, "Hey, whaddya want? They keep paying me to do this shit. What would you do?" Or, "Boo-ya," your call.
Cardinals 4, Padres 0
BOTTOM OF THE THIRD: Tony LaRussa just made an excellent managerial move in regards to defensive positioning, though Joe Morgan took so many extra words to explain it that, even though we saw it and understood it at the time, we're now confused, somehow. Carpenter grounds out and is already in the dugout by the time the fielder picks up the ball. Eckstein — who, contrary to popular opinion, is not in fact Jewish — singles to center. Edmonds — also not Jewish, but occasionally rumored to be gay — bloops a dopey double down the line. The Padres are obviously walking Pujols. Larry Walker is coming up. Blame Canada!
A wild pitch send Eckstein scampering home, and then the Padres just walk Walker. Reggie Sanders could make the tenor of this live blog much lighter the rest of the way with one swing.
WHAMMO. Little dart two-run single for Sanders. 4-0. We feel comfortable putting pants on now. Grudzielanek hits into a double play just when we started to nap a little.
Cardinals 4, Padres 0
TOP OF THE THIRD: We were playing this exact game on MVP Baseball 2005 last night, and somehow Jake Peavy hit three home runs. (We actually won 4-3, if you can believe that.) If he does that today, we're never live-blogging again. He saves us all by striking out. Dave Roberts just singled to right, and then Klesko did the same thing. This is when we start to become unable to control our pee.
Carpenter's breaking ball is starting to look a balloon with the air being left out of it. Mark Loretta has a full count on him. First and second. And ... we swear to God ... our ESPN just went out. Every channel is working ... except for that one. We hate everything on earth right now.
And we're back. And Loretta grounds into a double play. We just yelled so loud, we think the opera singer lady choked on something. We couldn't tell what it was, being in Italian and all.
Cardinals 1, Padres 0
BOTTOM OF THE SECOND: We live downstairs from an opera singer, and she warbles all freaking day. It's brutal. She sounds like she's being attacked by Barry Melrose. Reggie Sanders strikes out. Mark Grudzielanek — and yes, we can actually spell that right on the first try; it took us until midseason — flies out to center. In honor of Rosh Hashanah, Abraham (Nunez) singles to right. Catcher Yadier Molina grounds to short because he runs about as fast as us, from this couch, right now.
Cardinals 1, Padres 0
TOP OF THE SECOND: Former Cardinals Mark Sweeney grounds out to Albert Pujols, a fact evident to everyone on the planet but the first-base umpire. Pujols was this close to getting thrown out. Terrible call. Kill the umpire! (No, not really. A wedgie will be fine.)
Ramon Hernandez hits a ball right at Eckstein, who somehow misses it, probably because it wasn't a really hot hobbit. First and second. Khalil Greene helpfully flies out to left field to ease our terror for a brief second. And a double play keeps us from overdosing on Mylanta.
Cardinals 1, Padres 0
BOTTOM OF THE FIRST: David Eckstein pretends he's taller than 4-foot-2 and lofts a lazy one to left field. One out. Jim Edmonds, considerably taller than Eckstein, blasts one over the left field wall! 1-0 Birds! Stick that in your pipe and smoke it!
Larry Walker comes up. Great story about Walker sent to us from Padres blogger Gas Lamp Ball:
"Here's a story about your right fielder. We went to a Rockies game once when they visited the Padres. These five dudes in front of us thought there was an ESPN broadcast even though there wasn't. Each guy had a letter and they spelled out "ESPN!" exclamation point and everything, trying to get on TV. Eventually, somebody told them there wasn't an ESPN broadcast, so they took to heckling Walker the rest of the game. They rearranged themselves and spelled "PEN!S".
When they finally got Larry's attention, he gave the guys the old tounge in the cheek fellatio gesture. Everybody in right field fell in love with Larry Walker after that."
Walker rewards the Padres fans' affection by striking out on three pitches.
Cardinals 1, Padres 0

TOP OF THE FIRST: Hey, look, it's Jon Miller and Joe Morgan calling the game. Wonderful!
Cardinals take the field. We're hoping Bruce Bochy's mustache has the same restorative powers as Dave Wannstedt's. We'll find out real quick how if Carpenter looks like Good Carpenter or September Carpenter. First pitch almost hits the mascot. Yikes. Dave Roberts hits the ball very hard, but right at the Canadian mountie in right field. One out. Ryan Klesko — whom we're surprised never showed up in any steroid rumors — walks. Here we go.
Mark Loretta flies out to center. ESPN's Gary Miller is in the dugout, giving a report. Careful not to pee on any cops while you're in there, Gary! Carpenter gets Giles looking on what the kids call a "yakker."
Cardinals 0, Padres 0