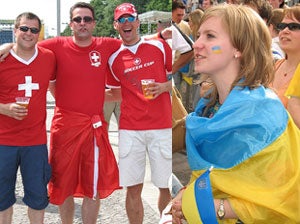 It's funny: We go out there and look for wacky or suggestive fan photos for each nation involved in a World Cup live blog around here, and this is the third Switzerland game already. And you know what? We haven't been able to find a single picture of a Switzerland fan that didn't make him/her look like a complete and total tool. Sorry. We really have looked.
Continuing with the Round of 16, it's Switzerland vs. , a team that's in its first World Cup and one we've decided to make the scrappy underdogs that we're rooting for, at least in this game.
Your live-blogger today is John Bolster, who has been around these parts before and is, as mentioned repeatedly, the sports editor of Penthouse. He's been great every time, and he'll be great now. Follow along in the comments, enjoy the game and, you know, mock a Swiss or something.
That's it for me. Thanks a lot to all, and enjoy the rest of the games!
I'm sure they're loving it in Kiev, but that was quite possibly the worst game of the tournament. And Switzerland, as we said, gets bounced without giving up a single goal.
Gusev steps up with a chance to book a place in the next round for Ukraine: HE PUTS IT AWAY!!
UKRAINE ADVANCES TO THE QUARTERFINALS ... on penalties.

CABANAS is stopped by SHOVKOVSKIY! 2-0 Ukraine! They win if their next klick is good... and...
Now Rebrov for Ukraine...he buries it! 2-0 Ukraine.
Barnetta for Switzerland now...HE HITS THE BAR! 1-0 Ukraine.
Milevskiy up now for Ukraine... He chips it coolly—and cheekily—into the right side of the goal.
Streller up now for Switzerland. SAVED BY SHOVKOVSKIY. 0-0 after one round of penalties!
First up is Shevchenko for Ukraine. Best foot forward. Lalas says ten francs he misses....And sure enough HE MISSES! Great save by Zuberbuhler, diving to his right. Tomorrow Zuberbuhler gets a day off.
30:00 That's it! We're going to penalties. Oy. Lalas points out that Switzerland could get knocked out of the tournament without losing or giving up a goal. A penalty shootout goes down as 0-0 draw.
29:00 We don't want penalties. It's been avoided the entire tournament so far. Much rather not see it. Lalas says: Penalties are more arbitrary than Swiss porn.
27:00 Substitution for Switzerland: Lustrunelli in for Frei. Frie is fried.
25:00 Streller makes a nice run into the box. Wow, he's got long stork legs. Great tackle/block by Gusin. Then, of course, everyone stays down to get a rest. JP Dellacamara wants a little liquid refreshment.
23:00 Both teams are exhausted. The ref is exhausted. The fans are exhausted. We're exhausted. There's exhaustion all around.
20:00 Absolutely nothing is happening. Substitution for Ukraine: Milevskiy in for Voronin. Are the Ukrainians playing for penalties? Oof.
18:00 Corner kick for Switzerland. But...nothing. Again. Nothing.
17:00 From Lalas's Swiss friend Stefan: "Cheere more please." Lalas promises to cheere.
15:00 Ref whistles the first 15 minutes of OT dead. The crowd whistles too. They're showing highlights now. They have to go way, way back to the first half and the crossbars hit by Shevchenko and Frei for the game's two highlights.
13:00 Has a blog ever been abandoned in mid-.. um, blog? Ukraine just played the ball backward and then knocked it around among their backline. Like they were up 2-0 or something. I guess they'll take the coin-flip of a penalty shootout over settling this with soccer. Like men.
10:00 Switzerland's Streller sends one in to the box. It's headed out and falls for Vogel who hammers a volley right at Shovkovskiy. Save.
9:00 Shevchenko with a surging run up the middle, but he's one v four. He gets taken down...no call.
8:00 Swiss free kick hits the wall, ball gets played out to the wing, chipped to the far post, headed back in to Cabanas, right in front of goal, but he seems to hear footsteps from the keeper and backs off. Threat ended.
6:00 Nice ball into the box by Switzerland's Barnetta...it bounces off a Ukrainian defender and the Swiss call for a handball. The referees ignore their calls.
3:00 Rebrov comes in for Vorobey for Ukraine. Leading scorer for Dynamo Kiev. So where's he been all game? While we're on the topic, here are the subs in this game: Rotan of Ukraine for Kilinichenko in the 75th. Strother of Switzerland for Yakin in the 64th. Grichting of Switzerland for Djourou in the 34th.
Extra Time 1:00: Degen attacks down the right wing, ball goes out for a goal kick. In other words, more of the same.
Okay, take a deep breath, the extra session is under way.
Man, where is the Golden Goal rule when you need it?
That's it for regulation as the ref blows the whistle. Normally that would be a welcome sound after a dud like this. But now it only means we've 30 more minutes of these two drab teams. Can't we just eliminate them both?
91:00 Switzerland swings two crosses across the front of Ukraine's goal. Barnetta hits the first one, which whistles through untouched. Frei (I think) hits the second. It's punched out by Shovkovskiy.
89:00 Another Ukraine attack goes for naught. They do win a corner, though. And waste it. "This is like a game of Stratego played by seven-year-olds," says Lalas.
87:00 We realized ten minutes ago that we are staring overtime—30 more minutes of this thin gruel—right in the face. All exclamation points from the 70th minute onward, by the way, have been ironic.
85:00 Ukraine's Voronin is mugged in the box by Magnin and Grichting! Amazingly, the ref lets it go. Swiss player stretchered off. The stretcher-bearers have the Swiss logo on their bibs: short white cross thing. Is that a conflict of interest?
82:00 Switzerland wins a corner! Their crowd wakes up at the urging of Magnin. Literally, he waves his arms and tells them to look alive. They start waving their flags, cheering. The corner is punched away. Oh well.
79:00 Cabanas passes up a chance to shoot for Switzerland, lays it off and Switzerland loses possession. Then Barnetta, already carrying a yellow, comes in studs-up on Vaschuk. Ref opts not to bring out a second yellow. At this point, we'll take anything to spark this one up. Even the 3,210th card of the tournament.
74:00 Kalinichenko corner kick skimmed just wide by Gusin! We thought that was in. We wished that was in. We just had a 30 second conversation to figure out that there was a "Gusin" and a "Gusev" on the Ukraine team, and not two "Gusins." Or two "Gusevs." Yeah, we're pretty bored. The crowd is too, they're doing the whistling thing that everyone else in the world does instead of the booing.
72:00 The K-Zoo Keeper has just phoned in to tell us that she's so bored with this game she's now reading George Carlin's bit about "stuff" online. ... Okay, Magnin fires over from distance for Switzerland.
71:00 This game is about exciting as a cold bowl of borscht soup. ... Or a Swiss argument: "Hey, I'm pretty neutral on the subject."
67:00 Shevchenko pierces the boredom with a cracking left-footed shot from the top of the box, right side! Just misses the post.
65:00 We are breaking out the toothpicks to keep our eyes open here. Wow.
62:00 Terrible studs-up, over-the-ball challenge from Switzerland's Cabanas on Nesmachniy. What do the Swiss have against Nesmachniy?
61:00 Almost everyone on the Ukraine is named either Andriy or Oleg, says Warren. That's
gotta get confusing.
59:00 Nesmachniy taken down outside the box on the left. Ladies and gentlemen, we have our first yellow card of the evening! To Barnetta of Switzerland. Shevchenko drives the free kick into the wall, then calls for a handball. No such luck.
56:00 Frei just—oof!—misses getting on the end of a ball over the top of the defense. It goes out of bounds. Yes, we're resorting to sound effects to liven this one up a bit.
53:00 Something has to happen here, says Lalas, or I'm going to go back to downloading porn. Yes, we are in the middle of the tournament's biggest snoozer right now. Shot of Franz Beckenbauer and Sepp Blatter in the stands. Possibly more bored than we are.
49:00 Calhoun checks in from the street: "From the sounds of this game, I am almost glad that I'm at work. Just walked by the local pizzeria to see if they had it on but they told me the only watch Italy's games. I told him I haven't seen so many Italians fraudulently hit the deck since Sergio Leone's old spaghetti westerns. I quickly got out of there as he reached for his pizza cutter. "
47:00 Voronin of Ukraine flashes a header just wide of the far post.
Okay game on:
Before we get to the second half, here are our Awards for the Group Stages:
Team We Really Would Have Liked to See Go Through: Ivory Coast.
Cakewalk Award: Tie between Germany and England. Germans, playing at home, get Ecuador and Costa Rica in the first round. England, stacked with talent, gets Trinidad & Tobago (and barely beats them), and just generally looks terrible while reaching the quarterfinals.
Player We Already Miss: Sadly, nobody. This tournament needs a p