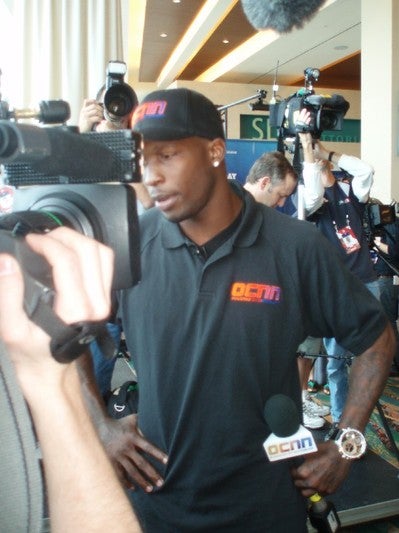 I don't know about you, but I'd rather watch Chad Ochocinco prowl media day as a reporter than any number of Mexican models. (Why are you looking at me that way?)
Chad picked up the mic and played at being a journalist, because...well, honestly I have no idea. To provide content for his iPhone app, I suppose. That's not the point. The point is, someone pointed a camera at Chad Ochocinco and set him loose in Sun Life Stadium.
How'd it go for the OCNN? Chad seems to think he nailed it:
But we learn that while trying to ask Peyton Manning a question, he was outshouted by fellow media members for 45 straight minutes and was ignored by Peyton. Just like a real reporter! Now he just has to wear khaki shorts in all weather and gorge himself at a shitty buffet, and the transformation will be complete.
Chad Ochocinco Adds Another Notch in His Career Belt: Media Day Hack [Miami New Times]