The American Bald Eagle was officially removed from the endangered species list today, meaning that, what, it's now OK to go out and shoot them? Of course not. With one exception, hopefully.
I don't know exactly why the Washington Nationals mascot, Screech, rubs me the wrong way. He just does, OK? I hate him desperately. It's strange, because I like the Nationals themselves, even though they're tied for the second-worst record in baseball (thank you, Cincinnati Reds!). And Dmitri Young is hitting .336. Like eagles themselves, at least the Nationals are trying to come back from the brink of extinction. Screech, however, needs to go. The Nationals are in Pittsburgh for three beginning today, then return home for a four-game set against the Cubs beginning July 2. Oh, Screech ... have you read the paper today? My only hope is that Cheney doesn't get to him first.
• Well That Didn't Go As Planned. Randy Johnson is back, but to tell you the truth he kind of sucks. Johnson, who went on the DL on June 11 with muscle tightness in his buttocks and a sore back, had his return to the Diamondbacks spoiled by Russell Martin's two-run homer as the Dodgers beat Arizona 9-5. The 43-year-old lefthander allowed four runs, three earned, and six hits over three innings.
• Do It For Daulerio's Mustache! So is this where the Phillies make that big push to finally catch the Mets? Jimmy Rollins says yes! He had four hits, including the game-winning single in the 10th as Philadelphia beat the aforementioned Reds 8-7. Your Chase Utley update: A pair of two-run homers, as the Phillies moved to within three games of the first-place Mets in the East. The Mets come to Philadelphia for a four-game series starting with a Friday doubleheader.
• Wait, The White Sox Are Good Now? Javier Vazquez is, at any rate, as he allowed one run over seven innings — with Paul Konerko hitting a pair of solo homers — to lead Chicago over Tampa Bay 5-1. And that's a sweep, folks.
G/O Media may get a commission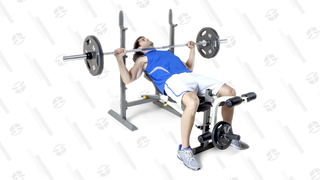 10% Off
Marcy Folding Weight Bench
• Jason And The Argonauts Jason Michaels' three-run homer in the seventh led the Cleveland Indians past the Athletics 4-3 Thursday. That's an 11-game hitting streak for our protagonist.