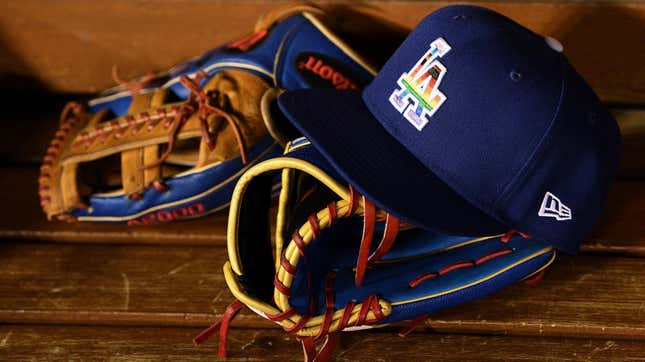 And you thought it was only hockey that could water down its Pride Nights for the benefit of the slug-portion of their fanbase.
Dodgers World Series guarantee was trash! | Trash Talkin' Tuesday
The L.A. Dodgers — that's Los Angeles, California, in case you thought there was a mistake — announced that they were modifying the Pride Night they were having in June by de-inviting The Sisters Of Perpetual Indulgence, a performance, charity, and protest group that features drag as well as queer and trans nuns that "promote human rights, respect for diversity, and spiritual enlightenment" according to their site. Boy, one might get the impression, if you were new around here, that would be the specific point of a Pride Night. And it is, until someone old and dumb as shit complains.
The Dodgers' initial invitation to the group stirred up the usual hornets' nest of ignorance, hate, and bigotry because showing love to everyone is decidedly not part of the Christian or Catholic faith. Then again, kowtowing to pressure from religious groups is something of a Dodger tradition (though that was the commissioner more than the Dodgers themselves)! And hey, the Catholics were once again busy pestering the commissioner of baseball, just like in 1947, which we apparently can't escape as a society. Certainly can't have a group that promotes understanding the connection of all groups of people at a night…meant…to promote…understanding and connection to all groups of people.

You know if Marco Rubio is on one side, you're on the right one if you're on the other, but that apparently didn't occur to the Dodgers. From the LA Times, Rubio — who is a senator from Florida, not California, so what business he has with the Dodgers would be summed up with the words "jack" and "shit" —couldn't wait to connect baseball to traditional American values, i.e. hating everyone that's different.
The president of CatholicVote claimed that no other religion would be sent up this way, apparently admitting he'd never seen a Mel Brooks movie.
Again, as we sadly had to keep repeating when the wave of NHL players and teams cowardly stepped back from the dangerous edge of being welcoming, the point of these Pride nights is to welcome everyone and show that there's a place for them in fandom and in the sport. Allowing those who hate to shout them down is the exact opposite of that. If people are insulted by the presence of The Sisters, that's their problem. Intolerance is not to be tolerated on a night about tolerance. But the Dodgers did the calculation that there was more money in not having The Sisters than there was in having them, which is all these teams really care about.
The Dodgers, repeating that they play in California, have opened the door for more of this in MLB this summer, and we'll give you one guess as to how Rob Manfred is going to handle this when it gets to his doorstep.
Zac Gallen channels his inner Randy Johnson
Anyway, back to baseball traditions that are ridiculous and stupid, as they should be, here's yet another Diamondbacks pitcher killing a bird:
"Death is a part of baseball."
Iga Swiatek gets a phone call amidst tennis match
I wasn't really aware that tennis players brought their phones on court, though given how often they're listening to headphones when they enter I suppose they must be playing music from something. Maybe Iga Swiatek had an escape call planned, like you do on a blind date:
Though she probably didn't want to get out of a quarterfinal in the last prep for the French Open. That would be strange. Sadly, she had to retire in the third set with a leg injury. But at least she can tell her mom where the remote is earlier than she might have.
---
Follow Sam on Twitter @Felsgate.