Because no one reads the newspaper, and SportsCenter's anchors are too perky for this early in the morning, Deadspin combs the best of the broadsheets and the blogosphere to bring you everything you need to know to start your day.
• It's like a Who's On First scenario, except with the word "balls": Lou Piniella, presumably after some Jimmy Dugan-level dribbling, ran out to argue a call with his junk all ajangle. You say accident, but I say genius: as any woman who has ever been pulled over for speeding knows, sometimes you have to flash some assets to best argue your case. Unfortunately for his self esteem, the Cubs ultimately lost 5-4 to the Reds off a Drew Stubbs grand slam in the 8th. [pic via OMGReds]
• Speaking of badgering managers, you know how stat people love to say attention-grabby things like "humans spend a full year of their lives looking for their car keys?" Well, after getting ejected last night in the Braves' 5-4, 13-inning loss to the Giants, Cox is just 8 games away from an entire 162-game season of YEROUTTAHERES. Some enterprising intern should make a compilation of these moments, NFL Films video yearbook style, when the time comes. (Also: "With a two-run lead and closer Billy Wagner in to pitch the ninth, the bleary-eyed Braves had reason to be confident." LOLOLOL!)
• More fun with stats: "Through five games Milton [Bradley] has as many middle fingers as he has hits on the season."
• The Chicago Bulls, battling for a playoff berth, lost in double overtime to the Nets 127-116. That should count as like, five losses. Terrence Williams was the first Nets rookie to earn a triple double since Kenyon Martin did so in 2001.
G/O Media may get a commission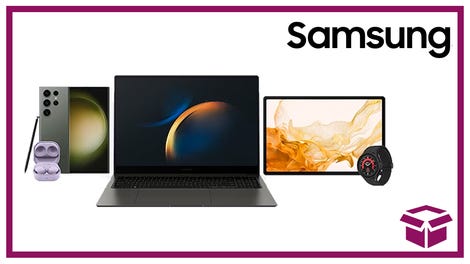 24 hour deals
Discover Samsung - Daily Deal
• Indiana edged Cleveland 116-113 as Mike Brown opted to bench most of his starters, having secured home court advantage throughout the playoffs. Are people get all bent out of shape about "tempting the gods" the way they did with the Colts?
• More proof that bathroom boning is all the rage: Ben Roethlisberger won't be charged with any wrongdoing in connection with his most recent sexual assault accusations. One can only imagine how he celebrated this news.
* * *
Good morning, ladies! You look so cute when you're all tousled and hungover. Any tips, you know where to find me.