Unless you live in Ruston, La., chances are the name Jacobi Boykins won't ring a bell. That's a shame, because the senior Louisiana Tech guard is and has been a great watch during his four years with the Bulldogs, albeit one sequestered to Conference USA games. He's the best three-point shooter on a team that loves to chuck threes, and he also, occasionally, does some insane shit like pull a 360 dunk in transition with two defenders flanking him.
The only true senior on the LaTech roster, Boykins has been a steady presence for the Bulldogs for three-plus seasons; now in his final campaign, the Saint Petersburg, Fla., native is averaging 14.4 points and 5.0 boards per game, and has again been the team's top long-range threat, averaging just under three treys per outing. He briefly flirted with jumping to the NBA last May, but opted to remain put in Ruston for one more year.
Ohtani has the WBC, but will Mike Trout ever lead the Angels to a championship? | Agree to Disagree
Last night, Boykins and the Bulldogs opened a four-game home stand with lowly, five-win UNC-Charlotte, a team so devoid of talent that the school-sanctioned postgame interview saw interim head coach Houston Fancher concluding that rebounding was the one thing they did well in Thursday's 83-64 loss. But this post isn't to point out the embarrassment of a low-tier men's basketball program. No, it's to point out that Boykins got absolutely shafted by the officials not once, but twice for a pair of otherwise incredible plays.
Some background: Boykins is an emotional, athletic player (he's fun, in other words), and he tends to dunk on people, a lot. As a result, he does have a small history of on-court beefs—last season, he was at the center of a bench-clearing brawl between Tech and UAB that ended with the Bulldogs having to play 4-on-5. But none of the officials at that 2017 game were on duty last night and, more importantly, Boykins didn't earn either of the techs the officials handed him.
The first injustice came with 6:15 remaining in the first half and Louisiana Tech up 30-16—when Charlotte's Milos Supica hauled down an offensive board and meekly tried to go back up with it, Boykins leapt so high that when he blocked Supica's put-back attempt, he swatted the ball with his elbow. That somehow earned him a whistle and a quick trip to the bench.
G/O Media may get a commission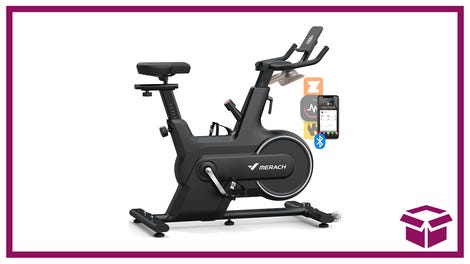 14% off + Coupon
Merach Indoor Cycling Bike
From that angle, it's tough to tell who made the call, but based on the reactions of the players and the brief shots of the refs in the above video, you can rule out the two sideline refs, Gerry Pollard and Craig Murley, meaning Tony Padilla was the one who thought the block was just too disrespectful to Haslam's ancestors. Fair enough, I suppose—after all, refs are just as prone to human error as players and coaches.
But five minutes into the second half, the overzealous zebras struck again, this time T-ing up Boykins for doing the following:
To recap: Boykins made a good steal, dunked on a opponent that slipped with no contact, looked at said goofball, and smiled. You can make a case he pointed, but then you'd be bested by the basic counter of "Who gives a shit, did you see that dunk?"
The most frustrating part of the entire mess is that the call there wasn't even made by the official who had the clearest angle at any incendiary motions or words Boykins could have used; it was made by Pollard, who was at half court on the opposite sideline when he blew his whistle, despite the fact Boykins had his back to him, denying him a clear view of what took place. I'd call Pollard a cop, but it'd be more of statement than insult seeing as he was one for 23 years before he became a full-time ref. Regardless, the call fucking blew; Pollard's lucky it came in a game where even the loss of a scorer averaging 14 points a night couldn't hand Charlotte anything close to an advantage.
For his part, Boykins handled it well, throwing up his hands at first before thinking better of it and quickly making his way to the locker room. After all, once you've blocked a man into a submission then dunked his teammate to hell and back, there's really not much left to do.