Rick Pitino and the University of Louisville have accepted the majority of the NCAA's accusations relating to their stripper recruiting scandal, but the two have singled out a few interesting points to push back on in their official responses.
Under Pitino, director of basketball operations Andre McGee hired strippers and prostitutes as a way of gaining favor with high school recruits from 2010 to 2014. The scandal broke wide open in 2015, when Katina Powell, who was in charge of organizing the women to bring to campus, published a book detailing the racket, titled Breaking Cardinal Rules: Basketball and the Escort Queen. In October of 2016, the NCAA released its Notice of Allegations, in which it pointed the finger at Pitino for not consistently checking the program for "compliance issues," in this case meaning strippers and prostitutes.
Looking to avoid a multi-game suspension for their head coach, both the school and Pitino acceded to 37 of the 40 accusations made by the NCAA in their response to the league. The pair did, however, choose to fight back a little by contesting Pitino's alleged failure in his role as program overseer and the overall cost and usefulness of the operation.
In an effort to knock the violations down from "major" to "mitigated"—NCAA violations are constructed entirely around bullshit legalese like this, just go with it—the school chose the bold route of arguing that the encounters the recruits had with the hired women typically only cost a few hundred dollars per session. (The Cardinals went this route because the NCAA is looking to make this a Level I charge against McGee and the school.) As far as NCAA violations go, a couple hundred dollars is but a drop in the bucket in the grand scheme of things and thus, in Louisville's mind, not all that grand of a recruiting violation.
Louisville also tried arguing that despite McGee's best efforts to secure commitments from recruits by setting them up with strip teases and blowjobs, the after hours entertainment failed to yield any major recruiting edges for the Cardinals.
The only conclusion that can be drawn is that McGee arranged the dances, offers and sexual activity to assist in the University's recruiting efforts. However, the University does not believe these dances or sexual activities greatly assisted its recruiting efforts. As noted elsewhere in this response, at least one prospect reported that this experience resulted in his disliking the University.
G/O Media may get a commission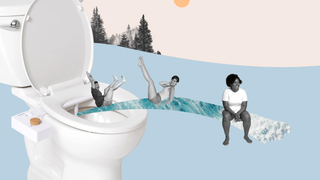 17% off
Tushy 3.0 Warm Water Spa Bidet Attachment
In its 92-page response, Louisville defended Pitino, claiming he is not guilty of negligence. The response makes the case that Pitino did in fact actively look for signs of suspicious activity, but that McGee continued to sneak in these ladies of the night under the head coach's nose. The school claimed the reason McGee was not caught by Pitino was because McGee "purposefully intended to avoid detection," and apparently with much success. A 42-page accompanying letter from Pitino's lawyer added that McGee never provided a "hint" of his "illicit activities."
After Pitino made clear he had no plans to resign when the scandal hit a year ago, Louisville self-imposed a postseason ban last season in hopes of easing any future NCAA penalty. The NCAA now has 60 days to respond to Louisville and Pitino's responses. Louisville and Pitino both will hope that their expensive lawyers will prove more effective at swaying the minds of their targets than they claim McGee's strippers were for recruits.