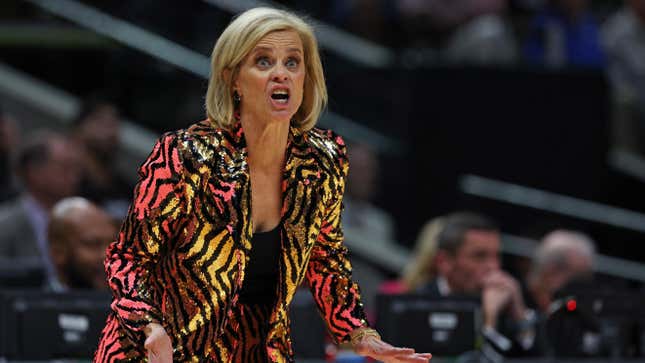 LSU's resounding victory over Iowa in Sunday's National Championship Game energized an angry national convoy of hoop casuals who have an amorphous beef with women's college basketball. Think folks are mad about the bastardization of college sports in the age of college basketball free agency? LSU's transfers scoring 90 of their 102 points might send haters up the wall.

Brittney Griner: What you need to know
Their most impactful transfer was Angel Reese, who relocated from Maryland before this season. Instead of being celebrated for her NCAA single-season record 34th double-double, Reese has been raked over the coals for the cockiness that gets celebrated by peers who have the complexion for protection. After Reese was named Most Outstanding Player of the Final Four, she made remarks that echoed the comments South Carolina head coach Dawn Staley made in regard to the dog whistles used to belittle her team.

"This was for the people who look like me"
"All year I was critiqued about who I was. I'm too hood, I'm too ghetto, y'all told me that all year, Reese said in her postgame presser. "When other people do it, y'all don't say nothing. This was for the people that look like me."

That double standard was on display in its most transparent form on social media. Take Dave Portnoy's demonization of Reese, for instance. On Sunday evening, Portnoy made a conscious choice to refer to the LSU forward as a "classless piece of shit" for doing the John Cena "you can't see me" celebration and pointing at her ring finger, twisted himself into a tweetstorm pretzel trying to defend Clark's usage of the same taunt against Louisville and South Carolina.

But examine who Portnoy's ilk chooses to champion and who to denounce. Two weeks ago, Portnoy extolled the virtues of Miami's Haley Cavinder shushing opposing fans at the free throw line while putting the Indiana Hoosiers away.
If those had been Staley's players, Reese's detractors would have doubled down by calling her a reflection of their coach. Truthfully, the intensity and brashness of LSU's majority-black rotation reflect that of their head coach. Within the confines of recruiting and coaching, she's a tour-de-force. Rather than slowly constructing a contending program by competing with UConn, South Carolina, and Stanford for five-star prep stars, Mulkey dipped into the transfer portal and terraformed LSU into a national champion. Her tenacity in mining the portal for win-now talent was instrumental in their rapid turnaround. None of those transfers has caught more flack than Reese.
We need to talk about Kim Mulkey
There are a plethora of legitimate reasons to be disgusted by Mulkey. The transfer portal isn't one of them though.

Yet, Mulkey has largely earned a free pass for her sideline antics and extensive history of being an asshole by many of the same figures bashing a college student. She threatened to punch critics of Baylor's handling of sexual abuse scandal, grew taciturn — for the first time in her career about expressing support for Brittney Griner while the former WNBA MVP was detained in Russia, allegedly declined to support Griner when she came out to Mulkey as she was leading Baylor to a national title, and then instead of using her influence to back Griner, attempted to get Kate Fagan, who wrote the story, fired by ESPN. Priorities are a funny thing though.

The irony is that the same purists criticizing Reese often lament how Millenial and Gen Z hoopers lack the same competitiveness of past generations' years of being chummy with one another through the AAU circuit and social media. The type of competitive banter that is missing from the game is what they're concern-trolling about today. But much of the rage is misdirected because if there's an LSU Tiger who's earned the scorn aimed at Reese, it's Mulkey.