A reputation is firmly in place when you can place a bet based on it. Luis Suárez is now a more notorious biter than Mike Tyson, and before he was even able to snack on Giorgio Chiellini, people with serious gambling problems could wager whether or not he would bite someone in this World Cup. Several such addicts took the (in hindsight, not outrageous) risk that Suárez would bite someone again and were rewarded in the 79th minute against Italy.
The best sports movies according to Toheeb Jimoh
One Norwegian man won 5,600 krone (over $1,000 U.S.).
G/O Media may get a commission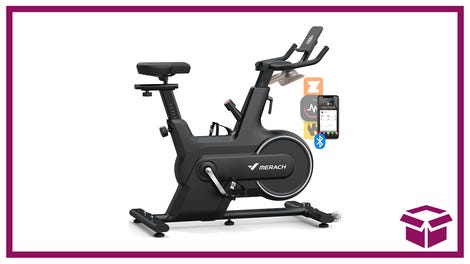 14% off + Coupon
Merach Indoor Cycling Bike
The Norwegian newspaper Aftenposten caught up with Thomas Syversen and found out he wasn't even awake to see his daring pay off.
I woke up just before it happened, so I was not alive. I saw the episode on replays. It was pretty special. But for me it was a success, so I'm happy, Syversen says.
Another Scandinavian bet the equivalent of $1.83 U.S. dollars at 174/1 odds on Betsafe. Swedish soccer fan Mats Johansson bet 10 kronor that Suárez would bite someone and won 1,750, or approximately $260 bucks. Dirty Tackle translated the tweets from Johannson and has some more information:
"Hahahaha! THANKS Suarez to you again bet a player o thanks for 1750 profit"

The ticket translated: "Will Suarez bite an opposing player? Soccer / World Cup / 2014 World Cup specials Winner - your bet: Yes"

According to Johansson, he thought about betting 50 kronor, but "chickened out."
38 other people won Suárez bite bets with the site—one of whom will see close to $3,000 U.S.—and have no need to worry if the bets will be honored. According to a spokesperson, they saw the play and thought it was "obvious" Suarez bit Chiellini.
Photo Credit: Getty Images
Swedish fan wins World Cup prop bet after Luis Suarez bites opponent [Dirty Tackle]