Every morning, the fine folks at Sports Radio Interviews sift through the a.m. drive-time chatter to bring you the best interviews with coaches, players, and personalities across the sports landscape. Today: the incoming coach and the outgoing QB, just ships passing in the night.
Luke Fickell joined The Dan Patrick Show to talk about getting the interim tag removed from his job title, how excited he is to get his dream job, whether or not he has had contact with Jim Tressel since his resignation, if he has talked to Terrelle Pryor, if he has any doubts he can succeed as the head coach of Ohio State, and what kind of sanctions he is expecting from the NCAA at this point.
On getting the interim tag removed from his title:
"Mr. Smith, we had talked about that a couple of weeks ago. (Host: What did they say?) He said we're taking off any interim tag. I'm not sure if it was something he was supposed to talk a little bit about in the press conference, but I don't think he actually brought it up. He assured me that's the way that they wanted to go."
How happy he is to take over as head coach at Ohio State:
"It's exciting, it really is. It's been a whirlwind as we speak, but when it's something that you grew up hoping and wishing and striving for, when something like that happens it become an unbelievable excitement."
On the contact he has had with Tressel since his resignation:
"Yeah. There's been nothing really said. We know he's there. We go back and forth every now and then, but really face to face that Monday night."
G/O Media may get a commission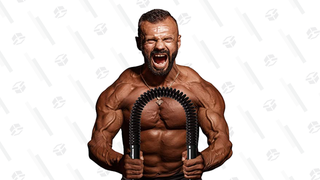 10% off
Zenooze Boa Power Twister
Whether or not he has talked to Terrelle Pryor:
"He left me a message. I was actually at the Taylor Swift concert so I didn't get a chance to speak with him. (Host: Will you call him?) I haven't had the opportunity to. He knows that we wish him the best of luck and we're going to encourage him, when we do talk to him, about getting back and finishing his education."
If he feels like he has to change the culture:
"That's a unique thing. I think the focus is what we're really, really interested in. That's what we're gonna move forward on. That's probably the main ingredient for the summer and going into the fall camp. It's not the culture as much as the focus. Getting back to the things that we believe in and truly making sure we are focused on those things so that they know exactly what expectations are."
Whether or not he has any doubts in his ability to be successful at Ohio State:
"Not one bit. I've been here long enough, I know what the foundation is, I've played here obviously. So 15-18 years of my life entrenched in this program I have no doubts."
On the sanctions that could be coming to program:
"It's still hypothetical and for us right now we don't have a whole lot of time to focus on those kinds of things. We just really are focused on the things that we can control and really continuing to tell our guys and make sure they understand that we're moving forward. We're focused on the now and what's going to happen with that is out of our hands. We'll let those in charge of that do their job and hey we're gonna really worry about the things we can control."
Who would win a cage match of the Big Ten coaches? Brady Hoke looks like a pretty big guy:
"Me. I don't know them. I just know my abilities and I got confidence in what I do and, you know, 18 years of wrestling probably does help a little bit, in my book."
This post, written by Chris Fedor, appears courtesy of Sports Radio Interviews. For the complete highlights of the interview, as well as audio, click here.
More from Sports Radio Interviews
• Steve Garvey would love to rescue the Dodgers.
• Jim Leyland got ornery.
• Tom Thibodeau had some character advice for Derrick Rose.