Luke Kennard was never supposed to be the star of this year's Duke team, but the sophomore shooting guard had another monster game against Florida last night, and, well, here we are. All you "Dook" haters might be fucked.
Last night, the Blue Devils impressively fended off Florida to claim an 84-74 win in Madison Square Garden; once again, it was Kennard who stood out as the team's top offensive threat. He dropped 29 points, three assists, and two steals to lead all scorers and add another balls-out performance to his 2016 résumé. He also talked some shit while he kept draining three-balls in the face of Florida defenders (he was 5-of-7 from deep on the night):
Okay, he really just said, "C'mon, man" a couple times, but he's trying. He'll get there. One must be patient with Duke guards—a shit-eating grin doesn't automatically mean it'll be backed up by decent shit talk. That takes time and training, which is fine, because Kennard's all set when it comes to a mentor.
G/O Media may get a commission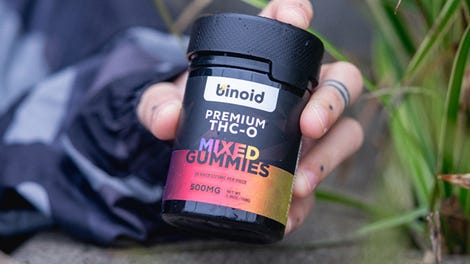 25% Off + Free Shipping
Binoid THC-O Gummies
See, Grayson Allen was supposed to be the focal point of the offense while the Blue Devils waited for rookie forward Harry Giles, the best player on any roster in the nation, to rehab from a torn ACL suffered during his senior year of high school. While the junior serial tripper's numbers have been decent (15.9 points, 4.9 rebounds, 4.1 assists), Kennard's have been nuts. The southpaw sharpshooter has proved to be more than that, using an array of no-look dimes, physical drives, and mid-range pull-ups to establish himself as a true offensive threat in the Duke system. Look at these sweet non-scoring plays from last night's game:
Kennard is averaging 20.6 points (a team high), 6.2 rebounds, and 3.2 assists, all while shooting 52.2 percent from the field, 41.0 percent from long range, and 88.1 percent from the charity stripe. This in a season that started and progressed with people openly discussing the possibility of him losing a large share of his minutes when freshmen Harry Giles, Jayson Tatum, and Marques Bolden return from injury. Dude has gone from maybe being in line to be the sixth man to being considered one of the nation's top overall players.

Kennard's explosion is a terrifying development for the rest of college basketball, and specifically the ACC, for reasons larger than, "dang, now we have to gameplan for Luke." Last night's game was probably the best reminder we've had all year of just how insanely loaded this team is, as Duke's Tuesday night victory doubled as forward Jayson Tatum's first breakout game (it was his second game overall, as he's been out with a foot sprain since late October). The rookie looked convincingly like a 2017 NBA player, taking on iso offensive assignments and cruising through Florida's defense to score 22 points. Again, this was his second college game.
The 6-foot-11 Bolden has played just 14 total minutes this year while returning from a left knee injury; Giles, a future lottery pick, has yet to touch the court; Allen is recovering from a toe injury and has yet to find his stroke from behind the arc. And last night, the Blue Devils still looked like a team that can win the title.