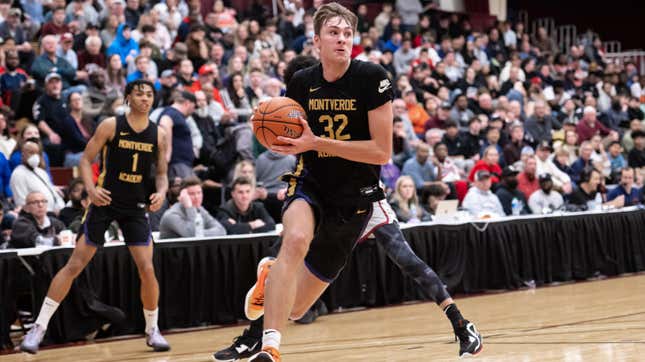 Victor Wembanyama's NBA summer league debut was a mixed bag that had quick-take artists calling him Raef "LaFrench" after a 3-for-14 shooting performance. Nevermind that he rejected several shots and affected a slew of others. On Sunday night, Wembanyama had to respond to the best player in a summer league by hitting a panoply of shots, flushes, putbacks off his tippy toes, and finally resembled a 7-foot-5 Paul George. Unfortunately, the next big thing was playing in the wrong summer league.

Is pulling Victor Wembanyama from NBA Summer League the right move? | Agree to Disagree
Check out 16-year old Cooper Flagg
Aside from Wembanyama, 16-year-old Cooper Flagg is seizing the summer. The 6-foot-8 forward is a more prototypical prospect than the sui generis stylings of the Spurs 7-foot-3 skyscraper, but it's possible he's still growing. The buzz surrounding Flagg has been growing progressively louder all year. He almost made our 23 for 23 list, but we thought it was too soon. I couldn't have been more wrong. At last week's Nike EYBL Peach Jam, Flagg separated himself from the pack in a resounding manner. The 2023 draft class lacked a headliner. The 2024 class is a bit of a muddled mess too. Among the upper echelon prospects, nobody has stepped up to the crown in either class.
Every summer, the EYBL gives us a glimpse into the future. The Peach Jam is high school basketball's modern Vegas Summer League equivalent. Since partnering with Nike EYBL in 2010, it's become one of the premier grassroots showcases in the country.
While NBA scouts were busy paying a courtesy visit to see LeBron James' youngest son, Bryce, in action, the two prospects at the top of the marquee were Cameron Boozer and Flagg. However, in one week, Flagg's stock shot from top prospect to bonafide phenom. The top prospect in the class of 2026 also hails from Maine, but Flagg is the biggest to emerge from the Pine Tree State since Stephen Edwin King. The basketball gods in Secaucus must be ecstatic. 
Flagg would be the first white American-born phenom since Lake Oswego High Schooler Kevin Love and South Medford's sharpshooting Kyle Singler were the top two forwards in the country. The class of 2007 felt like the last stand for White American ballers. How long ago was that? Flagg wasn't even born until midway through their junior seasons.
Behind Singler and Love in 2007 was the first Emoni Bates of the new millennium, Taylor King. It's not a coincidence that after King transferred and Singler won a national title his junior year, Coach K switched up his game and finally began building his program around one-and-dones instead of Laettner clones. That's the same year, Chase Bundinger landed at Arizona with his volleyball hops. Ok, nobody knows who these guys are. I'll stop writing in hieroglyphics.
Cooper Flagg is different
Flagg is on a whole different plane athletically than Love, King or Singler though. Seriously, if you page through ESPN's 100 database, Holmgren is the only White American prospect ranked inside the top three for his class since 2007. Expand that to the top five and you get B.J. Mullens, the fourth-ranked player in 2008, Kaleb Tarcewski in 2012, and Henry Ellenson.
Right now, Flagg is ranked the second-best prospect in 2025. But in a cultural sense, he stands out. Last year, J.J. Redick opined that Love was probably the best white American hooper left in the league. Chet Holmgren might snatch that title soon. There's no better job than being a great white hooper. Austin Reaves' surfaced as the third-best player on the Los Angeles Lakers and was already becoming one of the league's most recognizable names and Tyler Herro's status in the zeitgeist far outweighs his production levels. It's a nice gig if you have the complexion and an American birth certificate. Maine is basically an extension of Canada, but we still claim it. My point is, you're going to hear plenty about Flagg as he develops over the next two years.
From a basketball perspective, Flagg made his mark as basketball's summer MVP. We already knew who Wembanyama was, but a flag has been planted in the Class of 2025. In July, he earned the NBPA Top 100 Camp MVP. During the course of the week, Flagg consistently quadruple-double versatility, through his smooth offensive game and had three different performances in which he also swatted at least 10 blocks.
Flagg's only hiccup came in a one-on-one matchup for the Peach Jam under-16 Championship against Cameron and his twin, Cayden Boozer. Cameron scored only five points, but his brother Cayden picked up the slack to the tune of 25 points to lead their Nightrydas over Maine United. When recruiting rankings get rearranged this summer, don't be surprised if Flagg overtakes Cameron Boozer at No. 1.
In doing so, the Montverde Academy forward established himself as the most exciting two-way threat in prep hoops. All in all, Flagg left the Peach Jam averaging nearly 27 points a night, 13.2 boards, 5.5 assists and 7.7 blocks. Those numbers all ranked in the top three amongst all players. Peach Jam is the culmination of the summer barnstorming. It's also where prospects burnish their individual reputations.
Phenoms don't come out every year and we'll have to wait for this one too, but the Cooper Flagg hype plane is taxing the runway
Follow DJ Dunson on Twitter: @cerebralsportex