Remember waaaay back in 2007 when make-up lady "to the stars" Rita Ragone sued ESPN and AVI for sexual harassment and named Woody Paige and Jay Crawford as egregious fanny-pinchers? Well, unfortunately, the claims against those two have been tossed.

The Second Circuit Court Of Appeals released a 21-page decision, full of legal gobbledygook with words like "estoppled," so "Roger Cossack" of Unprofessional Foul took the time to explain what the decision means:
ESPN and AVI argued that the federal court can't hear the case because Ragone's employment contract with AVI required the parties to go to arbitration instead. That's fairly standard for many employment agreements, because arbitration is less expensive, is usually private (i.e., nothing gets into the papers/blogs), and the case is decided by an arbitrator rather than a jury. In other words, employers want to stay out of court if they can. Ragone essentially argued that the arbitration agreement should be thrown out and that she should be able to stay in federal court. The district court disagreed with her, as did the Second Circuit. So, it's not so much that she lost outright, or that AVI/ESPN won on the merits, just that this case will now be decided in arbitration rather than a federal court.
G/O Media may get a commission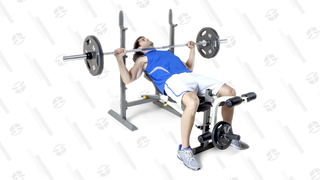 10% Off
Marcy Folding Weight Bench
Interesting sidenote that her employment agreement was with AVI not ESPN, but the court found that her claims are "factually intertwined" against ESPN, so the whole thing goes to arbitration. Also, the district court dismissed (i.e. threw out) her claims against Woody Paige and the other individuals, and that apparently was not appealed. So all that remains are her claims against AVI/ESPN.
As far as juicy details, her allegations in the complaint are about as much as you are going to get. Those haven't been proved true, they are just what she alleges. If I had to guess what happens next, this case will probably settle. She won't see a huge payday in arbitration (jurors are much easier to sway), so she might as well take whatever ESPN is offering now rather than go through years more litigation.
That's a shame. Now we'll never really know if Paige actually "once grabbed Ragone's backside so forcefully that she was "propelled forward and into the air."