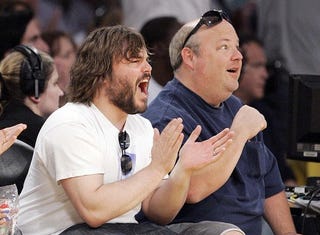 The Los Angeles Times has a nifty collection of celebrity photos taken at sporting events on their site today, which got us to thinking: Which LA team had the best celebrity sightings in the fall/winter seasons? One might automatically say the Lakers win this, but not so fast. Let's do a quick tally on some of the frontrunners.
Our scoring system is thus: If you suck, you get minus points. (That's rather basic.) If you're awesome, it's plus points. If you bring your kid to the game, that's good; the younger the kid, the more points. Some things are just sad, and will not even be graded ... such as Luke Walton doing the knuckles thing with Jeremy Piven, for instance. Britney gets docked several points for leaving the game early, and also for E-Mail My Heart. And Frankie Muniz is a nice enough kid we'd imagine, but he scared us. Well, let's see what we've got, after the jump.
Lakers
• Noah Wyle +2
• Jack +4
• Lindsay Lohan minus-4
• Britney Spears minus-8
Clippers
• Nikki Cox +2
• Brian Grazer minus-2
• Michael Clarke Duncan +2
• Frankie Muniz minus-1
Ducks
• Missy Peregrym +4
• Luke Wilson +2
• Cuba Gooding Jr. Even
• Ray Liotta +3
Kings
• Carmen Electra -4
• Ryan Seacrest minus-4, Kim Kardashian +4
Sparks
• Matt Leinart +3
Bruins
• John Lithgow even.
• Ahnold +1, Gray Davis Even, Throwdown +4
Trojans
• George Lucas +1
• Will Ferrell +3
Our favorite caption, by the way, is this one: Actress Sandra Bullock checks on a young boy who was injured when a puck came into his area during the first period of the Los Angeles Kings' NHL hockey game against the Detroit Red Wings in Los Angeles. And if you've ever had a puck come into your area, we have a feeling you're not laughing right now.
Celebrity And Sports Collide In LA [Los Angeles Times]