We've finally arrived on the day of the Champions League's return, just a short time away from one of the most intriguing round of 16 matchups in recent memory: Barcelona vs. Manchester City.
On one side of the pitch, we have what remains of the most heralded team of the millennium, anxious to prove that it can still thrive on the highest stage playing the possessing, attacking style that has won so many plaudits and trophies alike, though not without some recent struggles. Their foe for the evening is an ambitious upstart, with a manager, a director of football, and a general philosophy oriented around mimicking the success of their opponent. So: the old stalwarts out to prove they've still got it, or the new boys out to beat the vets at their own game?
This two-leg clash will come down to a battle of tactics. To that end, Manchester City must decide how to approach the game, with this basic question being this: Should they fully commit to their new, attack-minded identity knowing the danger any team that tries to play with Barcelona inevitably faces, or would they be better served playing on the counter, a tactic of proven efficiency against this team despite the ideological surrender it kind of implies?
Because make no mistake—Manchester City are explicitly trying to become the new Barcelona. It's why they hired former Barcelona vice president Ferran Soriano to be their CEO a couple years ago. It's why their director of football is Txiki Begiristain, the former Barcelona director of football. It's why they're spending hundreds of millions of dollars overhauling their youth training system, hoping to attract and develop the kind of homegrown talent that is the wellspring of the current Barcelona side. It's why they signed the free-attacking-minded manager Manuel Pellegrini. It's as if at every opportunity Manchester City ask themselves, "What would Barcelona do?"
G/O Media may get a commission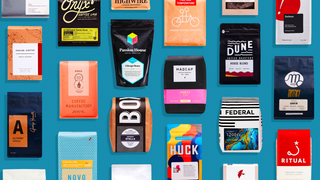 Get $25 free
Trade Coffee - National Coffee Day
This is why to counter or not to counter is the question of the day. It's true that this squad was built with the express mandate to play attacking soccer, and with a team boasting David Silva and Samir Nasri—two of the best playmakers in the league—plus Yaya Touré, maybe the best box to box midfielder in the world, they are well equipped to do just that.
But City have looked most dangerous this year on the counter, so perfectly displayed on the Boxing Day match against Liverpool. With the penetrating passing of the aforementioned Silva and Nasri, coupled with the tireless running of Jesus Navas and dead-eye finishing of Álvaro Negredo, they are always only one swing of the leg from a fast break. The monkey wrench here, though, is the absence of Sergio Agüero, whose dogged channel-running and exceptional finishing is such a crucial cog in their counterattack's machinery. Without Agüero's ever-threatening back shoulder runs to complement the holdup play of Negredo and vision of their midfield, Navas is the only constant threat to get behind the defense. Without those indispensable runs behind, countering doesn't really work.
Instead, it would seem to make sense for City to line up with Nasri on the left, Silva in behind Negredo, and Navas on the right, a slight adjustment to the two-striker formation they prefer when fully healthy. With the extra man in the midfield, they will have a better chance to retain possession and not get overrun centrally. However, that strategy isn't what they've been most successful at, and might play right into Barça's hands.
As for Barcelona, they are their typically deadly selves. It seems that every story this year focuses on the negative aspects of their season, like the occasional dropped points in the league, Lionel Messi's injury and subsequent prolonged dip in form, and whether new manager Tata Martino really is ready to handle a job of such magnitude. But any fan of the team should realize how unremarkable these "concerns" actually are. Like the New England Patriots after 2006 or so, so much of the narrative surrounding the team is when will the glory years finally be over. Even during the latter parts of the Pep Guardiola era, the media and culers alike were quick to question whether tiki-taka was still effective, or a past-its-prime strategy clung to by fundamentalist ideologues. The more things change, and so on.
All of that nonsense threatens to overshadow what is the most cohesive Barcelona team in years. Tata's renewed commitment to pressing after losing the ball has solidified a defense so exposed in multiple stages of last year's Champions League. In attack they've never been stronger. Yes, the team has played without Messi for longer than anyone would have liked, but the much-decried "Messidependencia" no longer seems a concern. Alexis Sánchez is easily playing his best soccer in a Barcelona shirt, scoring 15 goals and generally looking like the future superstar they thought they brought into the fold three seasons ago. Pedro is back to peak form, also enjoying a purple patch in front of goal after struggling to find the back of the net last year. And both in the place of Messi as the false 9 and in his regular central midfield role, Cesc Fàbregas has been the most important player for the team this year. He's scoring, assisting, creating, finishing, tackling, dictating tempo—pretty much getting back to looking like one of the best midfielders on the planet. Oh yeah, plus they've gotten back that Neymar guy from injury. He's pretty good, too.
During their last league game, everything clicked in a 6-0 hammering of Rayo Vallecano. Messi was Messi, picking up two scores and an assist and in a form that could have netted him more of both. All three wide players with a shot to flank Messi got on the scoresheet, including a 30-yard piledriver from Neymar in his first action after recovering from a sprained ankle. Cesc was dropping dimes, assisting on two of the goals. Andrés Iniesta, who has come under some criticism this season for not adapting well to Tata's tactical tweaks, reminded everyone why he's a constant presence at the Ballon d'Or ceremony every year.
In short, it was a perfect performance. It wasn't solely attributable to Barca's ingenuity, though. They needed help from Rayo, who carried their own cross to the stadium that night when they decided against parking the bus and instead tried to play with this Barcelona team. Whether City decide to give them that kind of help will probably determine whether the second leg of this ends up even being worth watching.
Photo via Getty