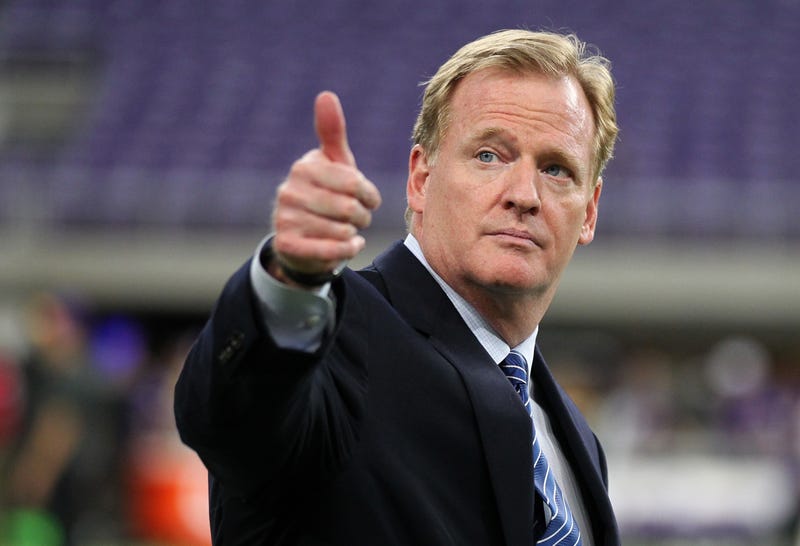 The NFL will probably never fire Roger Goodell. If you're waiting for that day to come, don't waste your time. Some day, years from now, Goodell is going to retire as commissioner, and there will be an unbearable period of exaggerated, rose-colored reflection on the passing of a heroic, legendary figure, and it will make Kobe Bryant's retirement tour look like cake and a wristwatch.
Drew Magary raised a really interesting point while exploring this topic in Thursday's Jamboroo. Goodell's victories on behalf of his bosses—the consolidation of authoritarian power in the commissioner's office; concussion policies that shift the focus onto player behavior and not the sport itself; the repeated undressing of the players' union—are narrow and shortsighted, for all the ways they disgust or horrify fans, and those decisions now appear to be driving the NFL's audience away.
Here's an interesting comparison:
Consider that the NBA season just started, and that league is cresting on an insane amount of good will thanks to likable stars, a kickass Finals, thirsty-ass basketbloggers tweeting nonstop, and a low-key commissioner who is NOT a raging prick. It wasn't that long ago that the NBA was unthinkable without David Stern. He was a soulless autocrat determined to bend players to his will, but he made the league lots of money, and therefore he was considered essential to its fortunes. Like Goodell, Stern treated his players like unruly children, and fans followed suit.
This is basically true. However, I think it's important to note some key differences between the two sports, and their positioning in the American pastime pecking order. While the NFL has done all it can to stay cool and at the top, the NBA has been putting out a watchable, fun product that might not be as popular, but one that doesn't come at the expense of its employees' brains.
Blown up to the scale of an entire nation, the NFL has been desperately projecting the kind of coolness that appeals most broadly and basically to their idea of America: cheap patriotism, military fetishism, comically outsized masculinity, and—importantly—a sturdy, paternalistic hierarchical structure. These are not things that can be separated from the NFL's general popularity, any more than fantasy football can. They are important parts of the NFL's packaging, and have been for decades.
The players' national anthem protests aren't the smoking gun behind the NFL's ratings drop, but they definitely throw a wrench into the league's desired public image. Nothing cracks the foundation like an action that undermines the NFL's illusion of heavy-handed paternal leadership, expressing total control over the unruly players. The Man In Charge is an old and deeply embedded part of American cultural mythology—it's no small part of the disproportionate freakout over Hillary Clinton's impending presidency, and makes up virtually all of Donald Trump's appeal. Goodell, for all his bumbling stupidity, has been a savant at projecting just the right kind of square-jawed masculine leadership. It's the George W. Bush act: you can get everything of consequence wrong and they will still believe in you, if you can convincingly pose as Man In Charge.
If Goodell ever gets himself fired—he won't—it will not be because he is viewed as too heavy-handed, too full of bluster, too convinced of his mandate to bring those dang players back in line by any means necessary. It will be because the NFL's true base—the psychos who most identify with its violence and macho posturing—hold Goodell responsible for, essentially, Colin Kaepernick. They will be wrong, but they won't be wrong, you know what I mean? Discerning, conscientious fans were leaving anyway—Frontline and brain science started that exodus years ago. Goodell knows this. It's why he's waged his years-long campaign against celebrations: the NFL's most loyal fans will hold him accountable for NFL players breaking the good soldier illusion. What they want is a commissioner who will crush someone like Colin Kaepernick. Goodell is their man.
Here's some other stuff to watch:
Other Sports
Noon — NBA League Pass — NBA Basketball: Jazz @ Knicks
The Knicks look frisky, I guess, but they also have the third-worst point differential in the entire goddamn NBA. They suck. The Jazz ought to beat the hell out of them, but it could still be fun. Kristaps Porzingis is intriguing, Melo's game is still lovely, and Clyde Frazier is delightful.
Noon — beIN Sports — Serie A Soccer: Inter Milan vs. Crotone
This is going to be a bloodbath, which makes it curious that it score the main channel slot in the beIN network of channels.
Noon — beIN Sports Connect — Serie A Soccer: Fiorentina vs. Sampdoria
Break in case of emergency.
12:30 p.m. — beIN Sports Español — La Liga Soccer: Villarreal vs. Real Betis
Villarreal have given up just seven goals on the season, which is bad news for Real Betis and their garbage attack.
2 p.m. — NBC — NASCAR Sprint Cup Series: AAA Texas 500
Other "sports."
2 p.m. — ESPN — MLS Conference Semifinal: Los Angeles Galaxy vs. Colorado Rapids
The Galaxy eked out a 1-0 win in Game 1 of this Western Conference Semifinal series, in Los Angeles.
2:45 p.m. — beIN Sports Español — La Liga Soccer: Sevilla vs. Barcelona
Hey, look at that! An interesting La Liga match in one of these afternoon time slots is very uncommon. Sevilla are one point behind Barcelona on the table, and Barça are just two points behind Real Madrid.
2:45 p.m. — beIN Sports Connect — Serie A Soccer: Roma vs. Bologna
Sure to be another wipeout, in the familiar, fetching style of Italian soccer (lots of rolling around on the grass).
3:30 p.m. — NBA League Pass — NBA Basketball: Blazers @ Grizzlies
The Blazers are just such good television. Their backcourt is so much fun, and they play a really fun, fast brand of basketball. And the Grizzlies are no longer exactly the plodding group you remember from the Grit 'N Grind era. Marc Gasol is now launching threes, they've got a couple intriguing youngsters in their starting five, and their offense is good-looking. This could be a really fun game.
4 p.m. — ESPN — MLS Conference Semifinal: Montreal Impact vs. New York Red Bulls
The Impact also eked out a 1-0 win at home in Game 1 of this Eastern Conference Semifinal series. Mix things up, MLS!
6 p.m. — NBA League Pass — NBA Basketball: Kings @ Raptors
The Raptors, sadly, are no more attractive as an entertainment product than they've been these last few years, which is to say, if you like free throws and pull-up midrange shots, you're in luck! But DeMar DeRozan has been on fire, and the Kings have been intermittently frisky during the early part of this season. And, look, today does not have a real strong slate of NBA games. Nuggets/Celtics promises to be a joyless affair, and Suns/Lakers is one of the worst possible matchups on the NBA calendar, from a quality standpoint. This game at least has some stars in it.
6:30 p.m. — FOX Sports 1 — MLS Conference Semifinal: Toronto FC vs. New York City FC
Toronto took care of business, 2-0, in their home leg of this Eastern Conference Semifinal series. NYCFC are in trouble—a clean sheet against Toronto is unlikely, and NYCFC surrendered the fourth-most goals in MLS this regular season.
7 p.m. — ABC — 2016 TCS New York City Marathon

Two hours of people running. Just, you know, running. Running here. Running there.
7 p.m. — NBA TV — NBA Basketball: Bucks @ Mavericks
I'm not going to pretend either of these teams is any good. But if either of them is going to be worth a damn, it will probably be the Bucks, despite the fact that Jabari Parker is butt. Because, if Jabari Parker is butt, Harrison Barnes (who is also butt) is double-butt, and the Mavericks around him are old and terrible.
9 p.m. — FOX Sports 1 — MLS Conference Semifinal: FC Dallas vs. Seattle Sounders
The Sounders put a 3-0 beatdown on FC Dallas in Game 1. This one is basically a formality.
TV Reruns
1 p.m. — USA — Law & Order: Special Victims Unit
That old Sunday standby, the less-reviled stepchild of the Law & Order family. On all day.
1 p.m. — TV Land — The Golden Girls
I will always remember the great Golden Girls Sunday counterprogramming war of 2016. In fact, it will be how I remember 2016.
1 p.m. — Sundance — M*A*S*H
I don't know what got into Sundance this weekend, but they're running a day-long M*A*S*H marathon today instead of their normal underwhelming slate of infuriatingly edited movies. I, for one, am in favor of this change.
4 p.m. — FXX — The Simpsons
Today's mini-marathon starts with the genuinely excellent "Stark Raving Dad," and proceeds to just a bunch of miserable, desperate, latter-day shit that never should have made it onto television.
4 p.m. — Logo — The Golden Girls
Logo's got Three's Company overlapping with TV Land's 1 p.m. Golden Girls mini-marathon, which is the same thing as throwing in the towel.
7 p.m. — ABC — America's Funniest Home Videos
I mean, you will laugh at some point. It's inevitable.
8 p.m. — Comet — Mystery Science Theater 3000
Of course, you will laugh much more at this. Luckily, you can do both!
Movies
1 p.m. — Ovation — Groundhog Day
Nice. Meanwhile, Comedy Central is showing You Don't Mess with the Zohan twice today.
1 p.m. — Cartoon Network — The Lego Movie
This is a pretty great movie, and it's a surprising move for CN, which usually just shows Teen Titans reruns all day on Sundays.
1:15 p.m. — IFC — No Country For Old Men
I just need this space to point out that Hallmark Channel is already showing nonstop Christmas content this Sunday, which makes me want to fucking puke.
1:30 p.m. — AMC — Aliens
AMC's got Alien ahead of this, but it barely overlaps with football. What I'm saying is, if you want to watch the first two Alien movies back-to-back, you'll have to get there before kickoff.
1:30 p.m. — BBC America — The Professional
Imagine pitching this movie today. A loner hitman develops a weirdly intimate relationship with an uncomfortably mature child and goes to war with a crooked, hyper-violent police detective.
1:30 p.m. — MTV Classic — Short Circuit
Hey! Johnny Five! I haven't watching this movie in at least 20 years, and I'm sure it's terrible. Also, apparently there's a Short Circuit 2, which MTV Classic is showing immediately after this.
2:30 p.m. — FX — Captain America: The First Avenger
The Captain America movies ... are good. They take themselves juuust seriously enough, and they hedge against any bouts of overreaching self-seriousness with a lot of sly humor and bitchin' action. And FX is running a cool Marvel movie marathon this afternoon, which is a hell of a counterprogramming power move.
3 p.m. — Syfy — Shutter Island
It's not science fiction, but it's a really cool and atmospheric genre tale, and is a good counterprogramming choice by Syfy, a network that misses more than they hit most Sundays. For example, they follow this up with The Core and 2012.
4 p.m. — BBC America — Braveheart
An old counterprogramming regular, making its first appearance of the season. BBC America is showing this movie back-to-back, if you can't catch it this time but must watch it today!
4 p.m. — IFC — First Blood
IFC's got this twice today, including once before football.
5 p.m. — REELZ — Unforgiven
I don't know much about REELZ, but it pivoted away from being a cinephile-type news network to mostly just being another network that airs original and acquired shows and movies, around 2009. If nothing else, this move allows them to show Unforgiven on a Sunday evening, which is probably cheaper counterprogramming than a studio entertainment news production.
5 p.m. — FX — Captain America: Winter Soldier
The action is noticeably more brutal in this movie than in most other non-Deadpool Marvel action movies. Not gory or anything, but the punches crunch a bit harder, and the characters suffer more.
5:20 p.m. — Sony Movie Channel — Shotgun Stories
If you can get down with Jeff Nichols movies, you'll dig this one, which was his first feature length film. It's got Michael Shannon (of course), and a handful of really memorable moments.
8 p.m. — REELZ — The Outlaw Josey Wales
Probably the people on earth most likely to find this movie compulsively watchable are also far more likely to watch Sunday Night Football.
8 p.m. — TNT — The Dark Knight
TNT is otherwise running a daylong marathon of Supernatural episodes, before this very good but very dumb movie takes them into primetime.
8 p.m. — FX — Guardians of the Galaxy
FX really went for it today, and I wonder if this kind of thing will get more common if the NFL's ratings stay down after the election (they will not).
8 p.m. — IFC — Terminator 2: Judgment Day
All in all, a good day for IFC. They're an important contributor to the non-football Sunday programming slate.
Another lovely fall Sunday out there. You could always take a hike!