Paying college athletes is "the most idiotic suggestion of all time," according to Jim Boeheim, who was paid $1.8 million last year, making him the highest-paid employee at Syracuse University.
The coach, who stands to make an additional $130,000 every year his team makes the NCAA tournament, declared "I don't believe players should be paid" in a conversation with local reporters.
Earlier this year, Boeheim defended the rising salaries of basketball coaches. "For what they've done for their universities," he said, "you can't begin to pay those guys.''
"Nobody got in it" for the money, said Boeheim, who receives about $77,000 annually on top of his base salary to put towards the purchase of a new car.
Boeheim, whose salary is nearly double that of his university's chancellor, has spoken out strongly against athletes being paid before. This latest assault is in response to Chris Webber's earlier comments that everyone makes money but the players. Referring to the cost of a scholarship, Boeheim said of Webber, "He got his money."
G/O Media may get a commission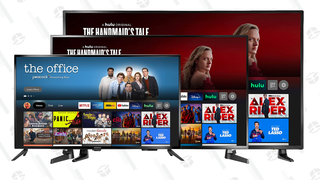 Up to 44% off
Prime Early Access - Insignia Fire TVs
The monetary value of a college education was repeatedly emphasized by the Syracuse coach, who receives nearly $1 million a year from marketing firm IMG, which owns the licensing rights to basketball broadcasts, billboards, newspaper and magazine ads, arena signage, and even receives a cut of tickets sold.
"I believe they are getting a tremendous opportunity," Boeheim said of student-athletes, who finish each year owing an average of $3,222 on costs not covered by their scholarships, but do get free athletic equipment. Boeheim personally receives hundreds of thousands of dollars a year from Nike in exchange for his players wearing their sneakers.