Coaches and players often say, when asked whether something or other has added fire to an upcoming game, that if just being in the Big Time Sporting Event doesn't motivate you, you're beyond hope anyway. If that's true, then Manchester United's passion-filled 3-0 comeback against Olympiakos probably doesn't say much about the performance of manager David Moyes. But hot damn, you could tell everyone at the club wanted that one.
The best sports movies according to Toheeb Jimoh
From my experience in managing a soccer team, I'd bet anything that the urge to passionately question his players with a "I'm very happy with your performance, but why can't you play like that every match?" during the post-match pep talk was almost too much to overcome for Moyes. United simply looked like a different team yesterday. It's true that you can't fake desperation, but if they'd spent the last few months showing this kind of team-wide commitment to closing down in defense and incessant channel-running in attack, there's no way they'd currently be 7th in the table, not even bothering to look at the Champions League places.
And it's not like Olympiakos were mere spectators to their own capitulation. The match was so intense because going through to the quarterfinals was just as important to the visitors. As tenaciously as Man U were hounding Olympiakos for possession, the Greek team was equally relentless in sliding in to break up those nascent fast breaks. From the opening whistle, every lost ball was an instant counter attack up and down, back and forth on the pitch, every tackle committed with a last-ditch air.
As impressive as the reemergence of a vintage Robin van Persie was, David de Gea was every bit as crucial. His world-class shot-stopping was on full display a number of times on saves that kept Olympiakos from that all-important away goal. Olympiakos knew that preventing United from hitting three would at least get them to penalties, but they were determined to press their advantage when their defense came up with a stop. This led to numerous dangerous opportunities, especially at the beginning and end of the match, where de Gea was forced to rescue his porous defense.
G/O Media may get a commission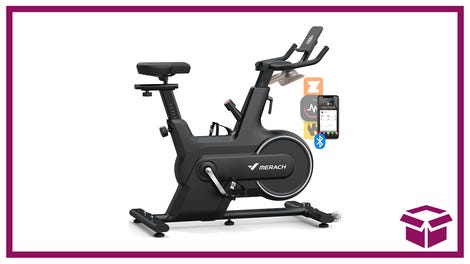 14% off + Coupon
Merach Indoor Cycling Bike
It's because this result was so unexpected and providential that it's also not as big as it seems; or, put another way, that this result is so big says everything about how terrible the season has been. Let's take a step back. Manchester United, one of the richest sports clubs in the world, is ecstatic that they beat a relative minnow like Olympiakos by three goals, ensuring their survival after only losing in the first leg by two. After being gifted with the feeblest opponent still in the Champions League, Manchester United scraped through by inches.
There's no reason to believe this result will propel the club on to bigger and better things in what remains of the season—not that there's much more available for them to fight for, anyway. There's no reason this Very Big Win To Spur Them On is any better than the earlier candidates, like the Liverpool League Cup win in September, or the win over Arsenal in November, or the draw at Arsenal last month. As quickly as they turn a corner, they fall down a flight of stairs.
In the Champions League, they now step into Olympiakos's shoes as the quarterfinal opponent the other teams dream for. Staying alive in the tournament technically gives them a shot to win, sure, but if the argument is that Chelsea's colossal fluke of a title in 2012 could be repeated, then I suggest that person pick up a probability book. Betting on randomness isn't sound policy.
In the best case scenario, United give a good show in a quarterfinal loss to Bayern or the like, then finish 6th in the league, narrowly pipped for the Europa League spot by Tottenham. Then they focus their time and energy next season—with a heavily reinforced squad, of course—on fighting for a top 4 league finish that is no longer a guarantee for anybody.
Or is that the best case? The frankly unfathomable scuttlebutt coming out of the British press is that United's board might consider participating in midweek friendlies around the world to make up for some of the lost funds they'll lose out on by missing European play. A club that we all thought prints its own money is so hard-up for cash that they may be willing to completely embarrass themselves playing Qatari all-stars and local yokels in Japan while their noisy neighbor is off in Enschede trying to top the group against Twente. It would be simultaneously the saddest and most hilarious possible consequence of this disaster of a season.
So what does this victory in the Champions League actually mean? It probably saves Moyes's job, at least for the summer—a good thing at least for anyone concerned for his health, given that he's spent much of the campaign pacing and looking like he just opened up the Ark of the Covenant. As cheap as United are reported to be, they can't be anxious to buy out the remaining five years on Moyes's contract without things really, really blowing up. That prospect will be good news to those who believe the Scot can still succeed in Manchester going forward, as well as those of us eager for a potential sequel to this year's apocalypse. United on the pitch might be nothing to write home about, but they remain as interesting as ever.