Manchester United were supposed to play yesterday in England's League Cup. Instead, they were home chilling, because on August 26, they got curb stomped by third-division midtable side MK Dons.
The best sports movies according to Toheeb Jimoh
First, let's back up. When David Moyes took over at Manchester United for a retiring Sir Alex Ferguson following the Red Devils' 2012-2013 Premier League-winning campaign, everyone expected some growing pains. The team was in transition, and transition can lead to bouts with weirdness. No one, however, saw their team, relatively unchanged from the previous season, finishing seventh in the league last year, missing out on Europe altogether and sort of wasting everyone's time.
Moyes was fired, and United brought in Louis van Gaal, a legendary manager who only a few months ago managed the overachieving Netherlands during their romp all the way to the World Cup semifinal. They gave van Gaal a blank check to improve the team, and this summer, United splurged. The Red Devils signed midfielder Ander Herrera and left back Luke Shaw in June before van Gaal had even fully taken over.
G/O Media may get a commission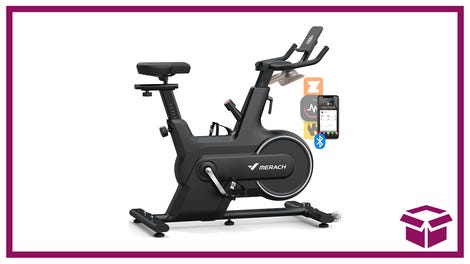 14% off + Coupon
Merach Indoor Cycling Bike
United put together a promising little preseason before losing their first game to Swansea and drawing Sunderland in the Premier League. And then MK Dons happened, and United started throwing money around. By the time the transfer window closed on September 2, the Red Devils had spent over £140 million net on their squad, adding superstar attacking players in Ángel di María and Radamel Falcao, Dutch midfielder Daley Blind, and World Cup standout defender Marcos Rojo.
The Red Devils looked like they might be ready to do some things when they slapped QPR with four goals, but that all ended when newly-promoted side Leicester City scored four unanswered goals to win 5-3 last weekend. And now, after that game, everyone is starting to panic, because result solidified what many hoped and few truly expected: Manchester United fucked up.
The Red Devils now boast one of the five most potent offenses anywhere on the planet, with Robin van Persie partnering with Falcao up top to form a world-class pairing, captain Wayne Rooney, di María, and Herrera providing support, and the criminally-underused Juan Mata coming off the bench. On paper, they should be able to score a lot of goals, on anyone. But through five Premier League matches, they're sitting in 12th place, even though they've played by far the easiest schedule of any team in the league. The only reason for this is because this season, no matter how you look at it, their defense has been historically bad.
The last 10 years in the Premier League have without question belonged to Manchester United. Since the 2004-2005 season, they've finished as champions five times and runners-up thrice more. What made United so dominant was their consistency, particularly in the back. Center back Rio Ferdinand joined the club in 2002, but center back Nemanja Vidic and left back Patrice Evra joined the squad before the 2005-2006 season. The trio first started a majority of games together the following year. The Red Devils won that year, and then two more times in a row. The three remained United's stalwarts, and all three took turns captaining England's top club. The aging core of England's top team didn't falter until the 2012-2013 season. They won the league that year, anyway, because van Persie, gifted to Manchester from bitter rivals Arsenal before the start of the season, proceeded to mainline PCP, put the team on his back, and carry United to the championship.
This offseason, all three wizened defenders were shipped off elsewhere, and United, once again, were in transition.
One obvious problem with United's back four is that van Gaal doesn't actually want to play a back four. His plan when he took over was to keep rolling with the 3-5-2 that got the Netherlands one penalty shootout away from the World Cup final. But there have been complications.
The elder statesman of United's back line, for instance, is 26-year-old Jonny Evans, a decent enough center back when healthy. (He is never healthy.) Shaw is the ostensible Future, but he was injured in preseason, might be kind of fat now, and hasn't made much of an impression on van Gaal, partially because he wasn't van Gaal's signing, and partially because he might be kind of fat now.
The manager has been forced to switch to the more conservative back four, though it hasn't resembled a back four as much of a conveyor belt of not-yets and never-wills, players that are too young, or, shockingly, not good enough.
In Sunday's match, United jumped out to a two-goal lead after 16 minutes before Leicester City pulled one back a minute later. Evans got injured, as he does, and made way for 24-year-old Chris Smalling after 30 minutes. United were forced to play a back four of Marcos Rojo on the left, Smalling in the center alongside 20-year-old Tyler Blackett, and longtime well-paid deadwood Rafael on the right.
Halftime came and went, then Herrera scored 57 minutes in to make it 3-1. And then shit hit the fan.
Four minutes later, Leicester City played a ball into the channel, and Vardy and Rafael chased it into the corner. Rafael kind of sucks, because he is cursed with being both short and slight (as outside backs sometimes are) without boasting very much natural ability or intelligence to counter his size. When Vardy and he clashed, Rafael went flying. It was a clear foul, but there was no call, and Vardy collected the ball and cut inside to the box. Rafael got up, recovered, and ran into Vardy's back inside the box for the penalty. Game on.
Plenty of United players had recovered, and they were actually doing a good job of marking in the penalty area. A Leicester City player streaking near post was covered. There was no reason at all for Rafael to foul.
It was a terrible way to concede, and three points that United had thought they'd already won were suddenly up for grabs. Leicester City fans roared to life.
It'd get worse just two minutes later, when quasi-legendary midfielder Esteban Cambiasso equalized for Leicester City. City looped in a cross; United tried twice times to clear out the box, but failed. Rooney finally got the ball out, but directed a weak volley out wide and directly to midfielder Dean Hammond. Still, United had seven field players were behind the goal. They should've been fine.
Blackett made the mistake. He turned his head, shouting instructions to pick up a wide City player, miles from goal, but ignored Vardy and Cambiasso, who were sitting unmarked at the top of the box, right in front of him. Hammond's shot went right to the striker, whose first touch bounced right to Cambiasso, wide open just 15 yards away from goal. He couldn't miss if he tried.
Van Gaal then swapped out di María and Falcao for Mata and starlet Adnan Januzaj to chase the win, but 15 minutes later, United's defense led to a fourth Leicester City goal. United were pressing up the field, searching for a fourth of their own, when a long City clearance traveled to Mata. The midfielder controlled, then played it to Rojo. Rojo had time to see the field, and to open up, but he elected to pass it back to Mata before taking off for the give-and-go. This was a breakdown in communication; Mata didn't know there was a man on his back, and not only didn't Rojo tell him, but he evacuated the space on the flank, so that Mata was basically helpless with a blue jersey bearing down on him. When City's Ritchie de Laet dispossessed Mata, he had time and space to sprint down the wing.
Smalling had pushed up to join the attack, and Rafael was too far away to do anything. As de Laet crossed midfield, Blackett was the last man back, and Vardy was streaking down the middle of the pitch toward goal. Blackett, caught in no man's land, was pretty fucked, but still, the next part is important.
When isolated on a counter (or anywhere on the field, really), the goal for a defender is to not get beaten with a pass or on the dribble. As soon as Blackett saw the turnover, he should've have retreated back toward Vardy while Blind recovered across to de Laet. Instead, Blackett's first instinct was to take a step toward de Laet without having the awareness to even look over his shoulder for a striker. With a few steps, Blackett had taken himself out of the play and left a red carpet for Vardy, who collected a cross and walked the go-ahead goal into the net.
The fifth Leicester City goal, seven minutes before time, started much like the fourth: with a bad pass from Rojo. Leicester cleared a ball over his head, and there was a jump ball between Blackett and Vardy at midfield. Vardy outmuscled the bigger defender, the ball landed behind them, and the striker was in on goal. Blackett finally caught up to Vardy in the box, hacked him down, and got sent off, while Ulloa sealed the game from the spot.
It's not so much that these goals came from defensive mistakes. The team is new, and right now United are made up of guys who have never played with each other before and speak different languages. But these were bad, individual mistakes, basic mistakes, lapses and decisions that are most commonly seen in academies. These are errors that expose the overall quality and speed of thought of United's defenders. They're not good enough.
The problem is, there's no quick fix for this. There's no leader among the back line, no Evra or Vidic or Ferdinand, and now there's not even an Evans to tell people what to do. Manchester United are the most unbalanced team in the league, perfectly built to score oodles of goals and get ripped through in turn.
And so now there are two options. Van Gaal could get better players, but that would take months and millions upon millions of pounds. He could also wait for these ones to develop, but that could take years. Either way, he, his arsenal of talent up front, and Manchester United are well and truly fucked.
Photo Credit: Getty Images