For the second time in three days, an angry Manny Machado caused the benches to clear between the Orioles and Athletics.
On Friday, tempers flared due to a rough tag by Athletics third baseman Josh Donaldson. (Yeah, we didn't get it either.) Today, Oakland reliever Fernando Abad brushed back Machado in the eighth inning; on the next pitch, Machado swung and let go of his bat.
If Donaldson was at third base, the intent would have made sense, but Albert Callaspo had already replaced him at that point of the game. The safe assumption is that Machado was aiming for Abad, and he fortunately missed by a mile.
G/O Media may get a commission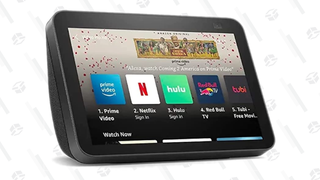 After the on-field party dispersed, Machado and Abad were both ejected. The next Orioles-Athletics series starts on July 18.
Update: Machado says he did not throw the bat on purpose. Do with that what you will.