Because no one reads the newspaper, and SportsCenter's anchors are too perky for this early in the morning, Deadspin combs the best of the broadsheets and the blogosphere to bring you everything you need to know to start your day



• Former Nationals reliever Mike Bacsik, determined to be known for something other than giving up Barry Bonds's 756th career home run, chose to lose his mind on Twitter yesterday. A screenshot, courtesy @joeruiz:
You'll be shocked to learn that Bacsik now works in sports-talk radio.
• LeBron gets a triple-double; Dwyane Wade dunks on what's left of Kevin Garnett; the Jazz run that old flex offense down the throats of the Nuggets; and the Spurs' George Hill shows himself off to the world for a second time.
G/O Media may get a commission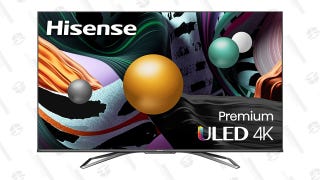 Save $350
Hisense ULED 65" Android 4K HDR Smart TV
• At last, a newspaper section devoted exclusively to the long-neglected world of New York sports.
• Tiger Woods updates his blog and sounds suspiciously like Larry King.
• Jose Tomas, one of Spain's top matadors, needed 17 pints of blood after being gored by a bull named Navegante, who sank his horn 4 inches into Tomas's groin.
• This headline on ESPN's front page fills me with existential despair: "Kiper: Let's start talking 2011 NFL draft now."
• The above photo, taken at a Pasadena Best Buy, comes courtesy @KellyKell, via Vin Scully is My Homeboy. At that moment, the Dodgers were in extra innings in Washington. The Bill Plaschke column writes itself.