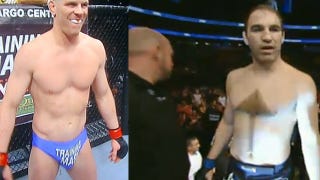 No one watches UFC—what with its bloody noses, sweaty chests, cauliflower ears—for beauty's sake. No one would confuse Dana White with Donna Karan. But holy lord, things got ugly in one of the undercard fights last night.
Dennis Hallman, the man on your left, decided to wear a blue Speedo to accompany his bleached buzz. It's too much. Our friend Spencer Hall reports that Hallman came out to "We Didn't Start the Fire." Even better.
Brian Ebersole, the one on the right, shaved his chest hair into an arrow pointing upward. Also too much.
Turned out, in case you were wondering, that Ebersole's too much proved too much for Hallman's too much, as he scored a TKO in the first round. Ebersole also received a $70K bonus for getting the banana hammock off TV, Mike Chiappetta reports. Money well spent.