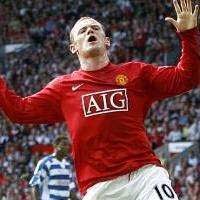 David Hirshey writes regularly for Deadspin about soccer. This column would have run Monday, but no one was reading the site on Monday.
I used to think that I'd witnessed some wild-ass shit at my company's holiday parties back in the day. I mean, I once had an assistant who thought he had gotten the ultimate Christmas grab bag, having double-dipped with two different young ladies, only to be punched out on the dance floor by one of the girls. But now I realize that what I thought was outrageous behavior was actually kind of innocent holiday hijinks.
No, it turns out that in order to really experience the true spirit of goodwill toward men, you had to be at Manchester United's party the other night. You know the one where 25 players paid $8,000 each to rent out a hotel, drink and gamble for 15 hours and invite 100 women who were not their girlfriends or wives to play "Shag Your Favorite Footballer."
Trust me, the Minnesota Vikings party boat had nothing on these lads.
One woman claimed she was allegedly raped by 19-year-old reserve defender Jonny Evans. Yet another woman who had sex with THREE ManU stars "shrieking like hyenas and screaming 'get in there' had a perfectly fine time.
"Yeah, of course, why wouldn't it be," she said. "They said I was a great shag."
The English call this sort of group activity "Roasting." as in roasting a chicken, so you can stuff it (and here I've been thinking roasting involved a bunch of old Jews getting together at the Friars Club to tell dirty jokes while exhorting Uncle Miltie to whip it out).
ManU may still trail Arsenal by a point at the top of the Prem, but let's give the Red Devils their due. Coming on the heels of Ronaldo's pool party romp with three $600 an hour hookers, their balls-out performance all but locks up the Hedonism Cup with half a season left to shag. I say "all but" because a fellow Mancunian, albeit one who plays for crosstown rival Man City, 19 year old England star Micah Richards was recently caught on video in one of the city's spacious handicapped stalls having sex with a teenage fan who was multi-tasking his friend at the same time. To hell with Amsterdam's red light district, next time I want to fly my freak flag, I'm heading right to Manchester.
It should be pointed out that this spirit of giving also extended to the pitch. Both ManU and Arsenal were presented with unexpected — and some might say undeserved —gifts in their games this past weekend. You might have thought that United would be suffering from post-party " hyperextended penis strain" (or, as I call it, "a very high ankle sprain") in their first game back, a tough scrap against Everton, and indeed there were signs early on that some of the players were out of sorts. Rooney, for instance, who one British tabloid reported wore a white suit to the party and introduced himself to a fellow reveler with the clever come-on, "you can be Beyonce to my Jay-Z," waited only four minutes to earn a yellow card for going studs-up into Tim Cahill.

But no matter how disjointed and off their game ManU looked, they still have the world's third best player, and Ronaldo was in full Dancing Queen mode on Sunday. Having missed the team's X-mas festivities in order to attend FIFA's Player of the Year ceremony (where he finished behind Kaka and Mesi in the voting), ol' Twinkletoes tormented Everton with his stepovers from the opening whistle.
When he skipped past two defenders in the 22nd minute and unleashed a bending left-footed rocket on goal, Tim Howard had no chance. The Toffees, however, are nothing if not resilient and they harried United all over the park until they tied it up on a leaping Cahill header. That should have been enough to earn them a gritty draw but Stephen Pienaar, a talented young South African, invited Ryan Giggs to tumble over his outstretched leg in the box and the Welshman obliged with a theatrical flourish. Ronaldo —who else? — cooly converted the spot kick and ManU escaped their own "roasting" from Sir Alex who apparently now refers to himself in the required third person. He said of the teams' holiday orgy, "Alex Ferguson has been dealing with situations like this for 21 years and I know exactly what we'll do."

Just for the record, my beloved Arsenal's idea of a wild night out is to have an extra mince pie with their turkey. They don't serve pink champagne and lap dancers at Wenger's nursery school parties for his young team. That's not to say Arsenal didn't get their stockings stuffed. No threesome could have been any more satisfying than Robbie Keane's penalty kick in the 72nd minute; then again, it's been awhile since I enjoyed the company of Megan Fox and Katherine Heigl.

I can only imagine what deluded fantasies Relegation Zone Mikey was having when Keano stepped into the box to deliver what should have been Tottenham's first victory in 20 games against Arsenal. Of course, seconds later RZM buried his head in his hands as Arsenal's peroxided keeper Almunia dived to his left to smother the Irishman's weak effort. Then Kinsale erupted in high fives and shouts of "England's No. 1", an only half-joking reference to the Spaniard's attempt to secure British citizenship in order to play for England.
"Fuck off, you Gooner cunts," was all RZM could muster when we tried to console him. "Hey, consider yourself lucky that you got a draw at the Emirates," we said just as Wenger confirmed his genius when he substituted the tall 19-year-old Dane Nicholas Bendtner for Eboue. Bendtner's first touch went crashing into the net as Tottenham gave him all the space and time he needed to soar above their defense and powerfully head home Fabregas' corner for a 2-1 win which kept Arsenal on top of the Prem. Did I mention that the team in first place on Christmas Day has won the league the last four years?
As for me, I'll return after the New Year. Right now I'm off to Manchester where I expect to come down — and up — a few chimneys.
(UPDATE: And apparently it has been an active day in the EPL today as well.)